William & Mary receives $23.9 million from Walter J. Zable estate
Gift to benefit athletic scholarships, stadium renovations and other needs
The estate of the late Walter J. Zable '37, LL.D. '78 has provided a $23.9 million gift to William & Mary, $20 million of which will be split between scholarships for student athletes and renovations to the stadium that carries his name. The gift ranks among the largest single gifts in W&M's 320-year history.

Zable, who died in June 2012 at the age of 97, instructed in his will that William & Mary receive $10 million toward scholarships for student athletes. Another $10 million will go toward future renovations of Zable Stadium, which was built in 1935 and is in dire need of repair. The remaining $3.9 million was undesignated and W&M is currently exploring the best use for the funds.

"Walt was a devoted son of William & Mary who maintained close ties to the College throughout his long and marvelously successful life," said President Taylor Reveley. "He was exceptional both as an athlete and a student, and he loved that William & Mary athletes succeed in their classrooms as well as in their sports. Walt did care deeply about Tribe athletics, particularly his beloved football team and their stadium."

Walt Zable himself was a gifted athlete. A Boston native, he turned down a scholarship offer from Harvard University to attend William & Mary, where he became an honorable mention All-American in football while also lettering in baseball, basketball and track. He received a bachelor's degree in physics from the College and met his late wife of 65 years, Betty Virginia Carter Zable '40.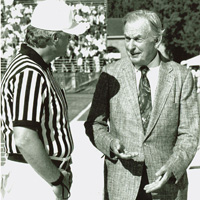 Those academic and emotional ties to the school remained strong all of his life, even after he moved to California in the early 1940s. In 1949, he started his own business in his garage focused on microwave technology. The business later moved to an office in Point Loma, Calif., where the Cubic Corporation made its first profitable product, a gadget that measured the power of microwaves. Today, the company is a global leader in the development of technology systems for military training and transportation services. Cubic has a presence in nearly 60 nations and employs about 8,000 workers worldwide. Zable served as Cubic's chief executive, chairman and president until his passing.

Zable remained very connected with his alma mater. In 1971, he was awarded the Alumni Medallion, the highest honor given by the Alumni Association. In 1978, William & Mary awarded him an honorary doctor of laws degree. He served on the College's Board of Visitors from 1992 until 2000.

Walt and Betty Zable were also longtime supporters of William & Mary and its athletics program. During their lives and including this gift, the Zables gave a total of $29.4 million to William & Mary, showing their commitment to the university and its students. This most recent gift is the realization of several estate bequests made over the years by the Zables. In 1990, the Zables pledged $10 million of their estate toward student support, including the establishment of the Walter J. and Betty Carter Zable Scholarship Endowment. The endowment is designated to "provide support for students who have demonstrated significant academic achievement, with preferences for those participating in football or other intercollegiate athletics."  That same year, the Board of Visitors named the stadium after Walt Zable. In more recent years, Zable directed that another $10 million of his estate be designated for the stadium.

"Walt was such a strong advocate for our athletics program," said Director of Athletics Terry Driscoll, "and this gift will address two very important pieces to future success – our student athletes and our facilities. This gift will allow us to underwrite the cost of education for our student athletes and continue that support in perpetuity. It also provides a very good start to the private fundraising needed to renovate the beautiful but aging Zable Stadium."

In January, the university put out a Request For Proposal (RFP) for architects to submit design ideas for the renovation of Zable Stadium, which was built 78 years ago. The university has not determined a budget for the project or the scope of the renovations. Driscoll said much will depend on the availability of additional private funds. State funds cannot be used for athletics facilities.

"We are very early in the concept phase for the stadium renovation project," said Driscoll, adding that the university expects to develop concept drawings on possible proposals over the summer months. "As our 2006 master plan shows, this stadium repair and renovation project is long overdue. Thanks to Walt Zable and his love of the Tribe, we're much closer to making it a reality."