Tribe baseball team begins NCAA play Friday against Mississippi
The William & Mary baseball team earned an at-large selection to the 2013 NCAA tournament on Monday afternoon, and will face the University of Mississippi in its first game in the North Carolina State Regional.
Friday's contest marks the third NCAA Tournament appearance in program history, and the first at-large bid ever.  Both the 1983 (ECAC South) and 2001 (CAA) teams won automatic bids.  The regional field is rounded out by the host Wolfpack and Binghamton.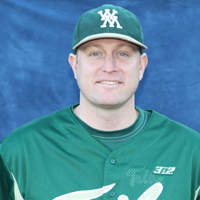 "Obviously, we are really excited to have the chance to continue our season," stated first-year head coach Jamie Pinzino.  "I am extremely proud of every player in our program, they deserve this moment as they have bought into the program since day one.  This is a great step for William & Mary baseball and hopefully a sign of things to come in Williamsburg for years to come."  
The Green and Gold has posted a record of 37-22 and tied the program-record for victories in a season, set in 2004. The Tribe's 17-10 Colonial Athletic Association mark earned them to the No. 2 seed in last weekend's CAA tournament, and was the most conference wins in school history.  W&M won two games in the conference playoffs, one a 20-19 thriller over James Madison, as well as a well-fought 12-4 victory over Northeastern, and advanced to the CAA Championship game.     
The Tribe will open play in the NCAA tournament against Mississippi on Friday, May 31, at 2 p.m. at Dail Park in Raleigh, N.C.  Fans can view the action online at ESPN3.com, and listen on TribeAthletics.com.
The schedule:


N.C. State Regional – Raleigh, N.C.

#1 North Carolina State (44-14)

#2 Ole Miss (37-22)

#3 William and Mary (37-22)

#4 Binghamton (30-23)
Game 1: Friday, May 31
#2 Ole Miss vs. William and Mary, 2 p.m. (ESPN 3)
Game 2: Friday, May 31
#1 N.C. State vs. #4 Binghamton, 7 p.m. (ESPN 3)
Game 3: Saturday, June 1
 Loser Game 1 vs. Loser Game 2, 2 p.m. (ESPN 3)
Game 4: Saturday, June 1
 Winner Game 1 vs. Winner Game 2, 7 p.m. (ESPN 3)
Game 5: Sunday, June 2
 Winner Game 3 vs. Loser Game 4, 1 p.m. (ESPN 3)
Game 6: Sunday, June 2
 Winner Game 4 vs. Winner Game 5, 6 p.m. (ESPN 3)
Game 7 (if necessary): Monday, June 3
 Winner Game 6 vs. Loser Game 6, 7 p.m. (ESPN 3