Todd A. Stottlemyer '85 elected next rector of William & Mary
The William & Mary Board of Visitors today unanimously elected alumnus Todd A. Stottlemyer '85 as William & Mary's next rector.
Stottlemyer, who was appointed to the Board in 2011 and currently serves as chair of the financial affairs committee, is the chief executive officer of Acentia, a management and information technology company. He will succeed Jeffrey B. Trammell '73, who will step down from the Board of Visitors this summer following his second term – including the last two years as rector. Robert E. Scott J.D. '68 was elected vice rector and will succeed Charles A. Banks III. Thomas R. Frantz '70, J.D. '73, M.L.T. '81 will succeed Dennis H. Liberson '78 as secretary.
"Jeff Trammell has been a splendid rector," said President Taylor Reveley.  "We know he will remain a vibrant participant in William & Mary's life. Charlie Banks and Dennis Liberson have also served the Board with devotion and distinction.
"We are enormously fortunate to have a Todd Stottlemyer as our next rector. Todd, Bob Scott and Tom Frantz have all proven themselves invaluable members of the Board who care deeply about the future of the university. I look forward very much to working with them."
The rector serves as chair of the William & Mary Board of Visitors. Stottlemyer will officially take the new position on July 1, 2013.
"I'm deeply honored to be chosen to serve as Rector of my alma mater. William & Mary is a very special place," Stottlemyer said. "It is home to outstanding faculty and staff, the best and brightest students and devoted alumni who, like me, care profoundly about the university's future. I also want to thank Jeff Trammell, who has been an exceptional leader for the Board and served with distinction. It's an exciting time at William & Mary and I look forward to working even more closely with President Reveley and the administration in the future."
Todd A. Stottlemyer
Stottlemyer graduated Phi Beta Kappa with a bachelor's degree in government. After receiving his law degree from Georgetown University in 1991, Stottlemyer went on to a successful career in the technology sector.
Washington Smart CEO magazine recognized Stottlemyer as one of their 20 most admired CEOs in the Washington D.C. area. He has held a number of executive posts, serving as president, chief executive officer, chief financial officer and a former business owner.  Stottlemyer served three years as president and chief executive officer of the National Federation of Independent Business. Prior to joining Acentia (formerly ITSolutions) in 2011, he served as a member of the executive management team at the Inova Health System. Previously, Stottlemyer was a co-founder and CEO of Apogen Technologies.
Stottlemyer, who was an offensive lineman on the Tribe football team, has remained connected to his alma mater and has experience in higher education leadership across the Commonwealth. He has returned to William & Mary several times to give guest lectures on entrepreneurship. Stottlemyer currently serves on the Board of Advisors for William & Mary's Thomas Jefferson Program in Public Policy and the Athletic Educational Foundation, and is a former member of the William & Mary Washington Council and the Foundation Board.
In 1995, Stottlemyer was appointed to the University of Mary Washington Board of Visitors, where he served as chair of the audit and finance committee. In 1998, he was appointed as vice chair of the Virginia Blue Ribbon Commission on Information Technology. Stottlemyer has also served as a lecturer for the University of Pennsylvania Wharton School's Executive MBA Program.
In addition to chairing the Board's finance committee, Stottlemyer serves as vice chair of the academic affairs committee and as a member of the executive committee.
Robert E. Scott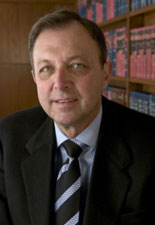 Scott, who is known nationally as a scholar in the fields of contracts, commercial transactions and bankruptcy, is the Alfred McCormack Professor of Law and director of the Center for Contract and Economic Organization at Columbia University School of Law.
Scott received his law degree in 1968 from the William & Mary Law School, where he served as editor-in-chief of the William & Mary Law Review. He also taught at the Law School before joining the faculty at the University of Virginia School of Law in 1974. Scott taught at U.Va. until 2006, serving as the school's dean from 1991 to 2001.
Scott was a founding member and president of the American Law Deans Association.  He was recognized by the Columbia Law School with the Faculty Member of the Year Award (1987-1988) and in 2004 he was presented with the Thomas Jefferson Award by the University of Virginia. 
Scott was appointed to the Board in 2008 and serves as chair of the academic affairs committee and vice chair of the strategic initiatives and new ventures committee. He is a member of the executive committee.
Thomas R. Frantz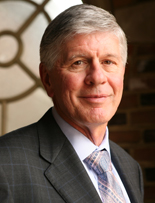 Frantz graduated from William & Mary with three degrees -- a bachelor's degree in accounting, a master's degree in law and taxation, and a J.D. from the William & Mary Law School. He is chief executive officer of Williams Mullen, an international law firm.
Frantz's name can be found on the list of leading attorneys in the Commonwealth and the nation.  He has been listed in three categories in The Best Lawyers in America and was named the Best Lawyers' 2011 Norfolk Area Corporate Lawyer of the Year. He has also been named to Virginia Business magazine's list of "Legal Elite."
Frantz's contributions to local nonprofit and educational organizations are equally impressive. He has served on numerous boards, the Virginia Aquarium, Hampton Roads Partnership, and the Hampton Roads Sports Facility Authority. He is also on Eastern Virginia Medical School's Foundation Board.
In 2009, Frantz was the recipient of the Law School Association's Citizen Lawyer Award. He currently serves as an advisor to the William & Mary Business Law Review and is a member of the board at the Mason School of Business.