Three to be honored with the Alumni Medallion
The following article originally appeared in the winter 2012 issue of the William & Mary Alumni Magazine. Photos by Skip Rowland '83. - Ed.

Awarded every year since 1934, the Alumni Medallion is the highest and most prestigious award given by the William & Mary Alumni Association. It is presented annually during Charter Day weekend. Alumni Medallion recipients have distinguished themselves through exemplary professional accomplishments, service to the community, state or nation, and loyalty and dedication to the College of William & Mary.

This year, the Alumni Association honors three esteemed leaders — individuals who represent the ideals of William & Mary's founders and what the College has stood for during its revered history — D. Bruce Christian '73, Nancy W. Mathews '76 and Donald G. Owens '65, J.D. '71. The award ceremony, which is open to the public, will take place on Saturday of Charter Day weekend, Feb. 9, at 10 a.m. in the Sadler Center.
D. BRUCE CHRISTIAN '73


Bruce Christian is a true servant leader — assisting others while shying away from recognition. Leading with his quiet manner and effusive humor, it's the little things that make Christian special: often driving from Lynchburg, Va., to Williamsburg several times per month for meetings, finding time to attend a fellow alumnus's book reading, visiting with undergraduate student volunteers or stopping by campus just to "check in." His selfless service epitomizes what it means to have a heart that bleeds green and gold.

Christian received his B.A. from William & Mary in Latin American studies in 1973 and completed graduate work at Tulane University where he received a Shell Foundation Fellowship for research study in Mexico.

Education — as well as supporting it for others — is a key passion for him; philanthropy is another. The list of Christian's philanthropy and service is extensive. He is the former president of the Central Virginia Chapter of the Virginia Society for Human Resources Management, where he served as secretary at the state level. He was president of American Wholesale Ltd., vice chairman of the Virginia College Fund and a board member for the Employee Assistance Program of Central Virginia, Lumen Christi Institute at the University of Chicago, Interfaith Outreach Association, Lynch's Landing Advisory Board, First Presbyterian Weekday School and the Tulane Parents Council. The Virginia Piedmont Chapter recognized Christian as Philanthropist of the Year in 2004.

The College also has benefited from these twin passions of education and philanthropy. Christian created the Christian- Ewell scholarship for study in Latin America in honor of his favorite professor, Judy Ewell. Christian and his wife, Spas, actively support scholarships, Swem Library and the Fund for William & Mary, among other interests. He serves on the W&M Strategic Planning Committee as well as the Grand Challenge One subcommittee and as a trustee and secretary of the W&M Foundation Board. He has previously served as vice chair of the Swem Board of Directors, a member of the National Campaign Steering Committee for the Campaign for William & Mary and the Class of 1973 25th Reunion co-chair.

With an extensive background in human resources, Christian works to continue the mission of his family's privately held company, N.B. Handy — one of the leading wholesale distributors of commercial roofing, HVAC and sheet metal. The company was awarded the 2011 Chancellor's Award for Leadership in Philanthropy by the Virginia Foundation for Community College Education. Born and raised in Lynchburg, where he continues to live, Christian serves as the volunteer executive director at the Old City Cemetery and Arboretum — a testament to the philanthropic legacy of his family; as it was his sixth great uncle, John Lynch, who donated the original acres so that the cemetery could be established in 1806.

Christian and his wife have three children.

NANCY W. MATHEWS '76


Nancy Mathews' contact with William & Mary has remained unbroken since she received her bachelor of arts degree in 1976. A committed student-athlete, she played field hockey, lacrosse and intramurals while also a member of Pi Beta Phi fraternity for women. She spent the years after graduation as a social worker in Chesterfield County, Va. In 1978 she married her husband, Hallett H. Mathews HON '02, in the Wren Chapel and celebrated their reception in the Alumni House. Since then, she and Hal have been two of the College's most ardent and enthusiastic supporters. In 2005, Nancy received the Alumni Service Award and continues to be passionate about all things W&M.

Mathews served on the Lord Botetourt Auction Committee for 23 years and was the chair or co-chair four times. Her leadership helped to generate over $2 million in support for William & Mary Athletics. She is a former member of the Board of Directors of the Alumni Association, the National Campaign Committee for the Campaign for William & Mary, the Fund for William & Mary Board, the Tribe Club Endowment Board and actively served on her 25th and 30th Reunion gift committees. She eagerly served on the Mascot Committee and is personally proud of the selection of the Griffin.

The Mathewses have been and remain generous supporters of the College and W&M Athletics. Their record of giving encompasses more than 30 years, as does their attendance at Homecoming, Charter Day, sporting events and other College functions. Their gifts made possible the new scoreboard in Zable Stadium and the Mathews Family Athletic Scholarship Endowment.

Nancy's early years as a social worker brought her in contact with many for whom a college experience was unimaginable. Since then she has worked tirelessly to serve her community. She recently completed service as a board member of Colonial Court Appointed Special Advocates, a local volunteer organization that focuses on the safe, timely and permanent placement of more than 100 childhood victims of abuse and neglect each year. She served for seven years on the Williamsburg Community Foundation Board of Trustees, including more than four years as the chair of the Grants Distribution Committee.

Nancy and Hal live in Williamsburg and have two children, Emily and Julie. In the past few years they have welcomed to Williamsburg Nancy's brother Donn Wonnell '69 and his wife, Karen, and her sister Jeanne and her husband, David. And yes, they now have Tribe Pride too!

DONALD G. OWENS '65, J.D. '71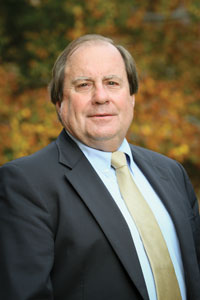 Donald Owens '65, J.D. '71 embodies the spirit, idealism and historical character of William & Mary. An alumnus of high ethical standards and integrity whose life has been hallmarked by helping others and furthering the public good, Owens' introduction to service began with ROTC at the College, where he was designated a Distinguished Military Student.

His service to his country continued as a 1st lieutenant in the U.S. Army, where he served as a company commander and in other leadership positions with our forces supporting NATO. Later, he served as a senior branch attorney with the U. S. Securities and Exchange Commission. His desire to help his state led Owens to join the Virginia Attorney General's Office and later the Virginia State Corporation Commission.

The high level of dedication and professionalism displayed in service to the public sector continued in private practice at Troutman Sanders. Owens has represented some of the largest U.S companies, while also providing pro bono legal representation to those in need. He is well respected by his peers as evidenced by his recognition in Best Lawyers in America and by receiving the Citizen Lawyer Award from the William & Mary Law School.

Owens' sense of duty to the community has led him to a variety of causes. His leadership and vision helped found the Richmond Chapter of Habitat for Humanity, for which he also served as a board member, legal counsel and a builder of homes. He has been a member of the State Advisory Council to the National Legal Services Corporation, a deacon and elder at Grace Covenant Presbyterian Church and a mentor to children at Swansboro Elementary School. He has been a long-time volunteer with the Richmond CARITAS program, which provides winter shelter for the homeless. Through the Central Virginia Legal Aid Society Protective Order Program, Owens has represented women who have been victims of domestic violence and he has helped troubled youth through his work with Wilderness Alternatives.

Owens' commitment to William & Mary spans more than 40 years. Through lecturing, serving on the William & Mary Foundation, the William & Mary Real Estate Foundation, the Foundation's Executive Committee and a number of Foundation-related committees and organizations, Owens continues to actively give back by helping to raise funds for both the College and the Law School.

When it comes to loyalty and dedication to the College, Owens excels in his faithfulness. Whether it is helping with his class reunions, a football game, Charter Day, a Muscarelle or VIMS event or other College events, Owens and his wife, Harlean, are there supporting the College and the students. As one of 12 William & Mary alumni in his immediate family, Owens has continued this tradition of steadfast love and commitment to the College.

Donnie and Harlean live in Richmond, Va. Their two sons, Scott and Daniel '05, live in Richmond and San Francisco respectively.

For a complete list of previous Alumni Medallion Award recipients, see http://wmalumni.com/medallion_recipients.

For videos of the Alumni Medallion recipients since 2010, see our playlist on YouTube.

Nominations for the 2014 Alumni Medallion Awards are due by July 1, 2013. Nomination forms are available at www.wmalumni.com/awards.