Third time's just as charming for 'Run for the Dream' weekend
{{youtube:medium:left|NSZCPizIBmg, Opening activities at the third annual Run for the Dream races}}
There was a deep sense of appreciation for freedom and beauty during last weekend's third annual Run for the Dream 8K and half-marathon event in Williamsburg.
The resolve to recover from the tragic events at the Boston Marathon was repeated countless times Saturday and Sunday, from race director Dave McGillivray, whose company oversees the Boston race, to men's 8K winner Tracy Lokken, who had finished the race when the bombs exploded.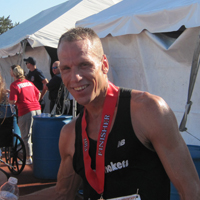 "We will never forget the victims of the Boston Marathon," McGillivray told runners and spectators both days. "Never. And no one will ever take away our freedom to run."
"It was a big-time tragedy, and I just couldn't get my mind wrapped around running and working out," said Lokken, who took off 12 days immediately following the race. "I was feeling so bad. It could have been any of us who were there. Like Mr. McGillivray said, let's not ever forget those people, not only as runners, but as a community."
Lokken finished 16 seconds faster than Malcolm Campbell of Atlanta Saturday in the men's overall 8K, with a time of 25:28.
Much of the beauty was provided by William & Mary, which on the eve of the races was chosen by AGoodRun.com as one of 50 beautiful college campuses for a good run. The races Saturday and Sunday began on Jamestown Road, in front of Phi Beta Kappa Hall, wound through parts of the campus and finished inside Zable Stadium. And both days, there were post-race parties in the Sunken Garden.
Runners like Edie Stevenson, from bucolic Boulder, Colo., were in awe of W&M's green, lush beauty.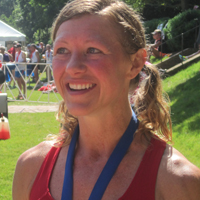 "I think this place is beautiful," she said prior to finishing third in the women's 60-64 age group in Saturday's 8K race at 35:12. That was only about five minutes behind winner Nancy Meck, 22 years her junior.
Meck, a house organizer from Atlanta, finished 1:35 faster than the overall second-place finisher, Dorean McCoubrie from Malvern, Pa.
Neither of Sunday's half-marathons were particularly close.
Smithfield's Victor Flemming, 34,was making his first appearance in the race. He pulled away from Williamsburg's John Piggott after a couple of miles and had the course all to himself until he entered Zable Stadium.
At that point, Piggott was hoping to cash in on a late closing kick and pass Flemming on the final lap. Although Piggott trimmed a 30-second deficit to just five seconds, Flemming crossed the finish line first at 1:16:58.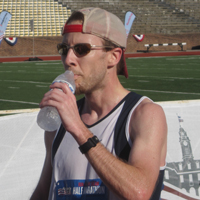 The women's winner, 22-year-old Hollie Heimer of Chesapeake, Va., has been running for just three years. A high school and college swimmer, she gave up that sport because, "It was too boring. All you ever had to look at was the bottom of the pool."
She competed in the inaugural Run for the Dream, finishing ninth. This time, she blew away the field in 1:29:10, more than four minutes faster than second-place finisher Tanja Cutting.
An Achievable Dream is a non-profit organization that operates two nationally recognized K-12 schools in partnership with a public school system and is dedicated to the belief that all children can learn and succeed regardless of their socioeconomic backgrounds, and that education can break the cycle of poverty.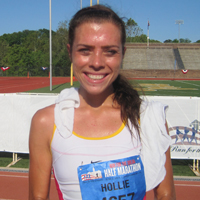 The Achilles Freedom Team of Wounded Veterans is a program founded in 2004 for veterans disabled in the wars in Iraq and Afghanistan. More than 400 vets have been introduced to marathon racing as part of their rehabilitation. The team now includes veterans injured in previous conflicts, including the Vietnam and Korean wars.
In addition to the fund-raising, as usual the weekend's activities were filled with fun and good cheer – and plenty of William & Mary participants. On the Colonial Parkway, a female spectator played steel drums, Jamaican style. Some volunteers who were distributing water dressed in grass skirts – the guys, too. A local contractor posted signs informing runners that the smoothness of a particular road they were traversing was due to his company's asphalt work.
Deb Boykin, assistant vice president for student affairs, was joined by both of her daughters and a future son-on-law. Although she has been running for 40 years, Boykin completed her first half-marathon last year at age 60.
The last couple of miles of the 13.1-mile run require the navigation of several hills "and it can be grueling," Boykin said. But she drank a lot of water and Gatorade, walked frequently and received end-game inspiration from a couple of sources.
"The (Achievable Dream Academy) kids at the Lodges were holding signs that said, 'I'm going to college (in part from proceeds raised last weekend),'" she said. "That's so inspirational. And the military people along the route at the end were saying all the right things to inspire and encourage you to finish."
Boykin's her avorite moment of these races is entering Zable Stadium, one lap to go.
"It's a great experience to come onto the track and hear them call your name," she said. "You say to yourself, 'I made it!'"
One of Boykin's running buddies, Anne Arseneau, loves the fact that a race striving to become a world-recognized event is almost literally in her backyard. She looks forward each year to friends and former fellow William & Mary classmates returning to town. Arseneau, director of W&M's student leadership development staff, finished her 17th half-marathon Sunday. She also has completed two marathons and who-knows-how-many 10Ks and 5K events. She says she hasn't experienced anything as well organized as Run for the Dream.
"It's fun to run a half-marathon in a familiar environment," she said. "Route 199. The Colonial Parkway. Part of the race cuts right through the path I take to the office each day. I'm in a familiar environment in a completely different way. It's neat."
There's one other aspect that appeals mightily to her as well.
"No one puts on as good a post-race party as these people," she said with a laugh.