Swem Library welcomes new associate dean
William & Mary's Swem Library recently welcomed Lisa Nickel as the associate dean of research & public services, a new position developed to integrate the library more fully into the research and instructional programs of the university.   
Nickel comes to W&M from the University of North Carolina–Charlotte where she served as an associate professor and head of the university library's Access Services, managing the circulation, reserves, interlibrary loan and stacks maintenance units and two branch libraries. Prior to this position, she was the distance education librarian for UNC-Charlotte.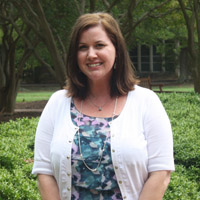 "I'm very excited to join Swem Library and contribute to the innovative and dynamic work that happens here," Nickel said. "Swem Library is a place that engages students, faculty and the community and is an excellent research and instructional partner on campus."
Nickel began her library career as a graduate assistant in the reference department at the University of South Florida. After completing her studies, she joined the Orange County library system as a reference librarian, and later returned to the University of South Florida as an assistant librarian.
Nickel has a master's degree in library and information science from the University of South Florida and a bachelor's in history from Rutgers University.  
As associate dean, Nickel will oversee 25 staff members in the departments of research services, circulation, interlibrary loan and media. The associate dean will provide support and direction in the execution of the library's strategic plan, be a campus voice for how the library supports faculty and student research, and provide overall leadership for the library as a member of the dean's leadership cabinet.
"Lisa's experience as a library leader, teacher and scholar make her a great choice for Swem Library's new associate dean for research and public services. She will help us raise campus awareness of how librarians support and actively participate in teaching, learning and research," said Carrie Cooper, dean of university libraries for W&M.