Rum blends in to help Tribe win
Matt Rum '13 spent his formative years in Chapel Hill, N.C., home of the University of North Carolina, but wound up being a ball boy for the archrival Duke Blue Devils. Even William & Mary basketball coach Tony Shaver, a Tar Heel through and through, would admit that was a lucky break for the Tribe.
"That experience really fueled me to want to pursue basketball at the college level," said Rum, who spent 2000 hanging with Coach K and stars Jason Williams, Shane Battier, Mike Dunleavy, even playing H-O-R-S-E against Dick Vitale, or "Dickie V," as ESPN prefers to call its college basketball analyst. "It would have been kind of tough not to (have been inspired), being in that environment. I got to work a couple Carolina-Duke games at Cameron (Indoor Stadium) and just being around that atmosphere was electric. You get caught up in it all."
The Carolina-Duke experience is not the only seeming contradiction in Rum's basketball background. A 17-point-a-game scorer as an all-league high school senior in Baltimore, Rum enters his final stretch of college games better known for just about everything other than putting the ball in the basket.
As soon as William & Mary and James Madison University tip off Saturday night at 8:30 in the quarterfinals of the Colonial Athletic Association tournament at the Richmond Coliseum, Rum will become the school's all-time leader in games played with 127. The 6-foot-4 guard is eighth all-time with a 1.37 assist-to-turnover ratio; 11th all-time with 326 defensive rebounds; 16th all-time in minutes played (2,783); 17th all-time in assists (226).
And it's not like he
can't
score. If the Tribe plays more than one game this weekend, Rum could move into the top-10 all-time in three-point shots made. He needs seven to tie Danny Sumner '10 for 10th place at 117.
"It was a difficult transition (not scoring), especially early in my career," he said. "But as you get older and mature, you realize that it's not all about scoring. You find your niche, you find what the team needs from you to win. My role this year as a captain, I realized that it's not just about scoring, it's about doing the little things like guarding the other team's leading scorer or anything like that that goes unnoticed. I take a lot of pride in that and I love doing the little things.
"Don't get me wrong, I love scoring and love it when I can produce. But at the end of the day if I don't score a point and I'm doing all of these other things that help our team win, I'm as happy as if I scored 20 points. That's how I've grown as a basketball player."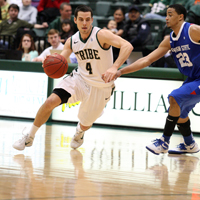 The matchup with JMU is a sports psychologist's dream. The Dukes have beaten W&M twice this season, most recently by a basket on March 2, a game the Tribe led by 19 points. So, was the outcome devastating because they lost, or inspiring in that for a long stretch of time, W&M was clearly superior?
"Obviously, we had them down big in the first half and they made their adjustments," Rum explained. "Now we know how to respond to the adjustments that they made. I thought it was a learning experience for us to get to know what works for them and what doesn't work . . . I think we'll know what to do this time."
Rum would probably be more alarmed about the JMU loss were it not for the way he's seen this team handle far more serious adversity this season.
"What matters is how a team responds at its low point -- and we went through a whole month without winning a game," Rum said, referring to the eight games played between Dec. 21 and Jan. 26. "The way I saw this team respond in February and come on (winning four of its last six), a lot of teams would have crumbled if they'd been through that, started going after each other. This team has been great, on and off the court. I think team chemistry is huge, and it reminds me a lot of my team freshman year because everyone was close on that team. No one cared who scored the most points, who got to talk to the media. Everyone just wanted to win."
The Tribe is 13-16 entering a tournament in which only seven teams are eligible to compete for an automatic berth in the NCAA tournament – March Madness -- and is considered wide open. It's no secret the Tribe's regular-season record could have been significantly better. Depending on what you believe, there were as many as 11 games W&M was in position to win, but didn't.
"We've always been right there, always had a chance to beat every team we've played," Rum concedes. "I see that as encouraging, especially coming off a season like last year (6-26). I think we're a team that's been trying to find its identity all year long, sometimes struggled with its confidence, obviously gone through our peaks and valleys.
"Where we are as a team is perfect for going into a tournament. We're all playing with confidence, we're playing together, and we've all found our niche. It's been frustrating at times, but you've got to expect that with a team that's still young, still learning how to play with each other. It's going to be fun to see how things go up there."