Rosenberg appointed to Offshore Wind Development Authority
Virginia Governor Bob McDonnell announced on Nov. 15 the appointment of William & Mary Chancellor Professor of Law Ronald H. Rosenberg to a four-year term on the Virginia Offshore Wind Development Authority. The state established the authority in 2010 to facilitate, coordinate, and support "the development of the offshore wind energy industry, offshore wind energy projects, and related supply chain opportunities."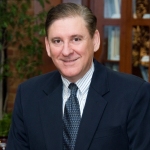 Rosenberg said that he is "honored to be appointed to this important commission. Offshore wind energy holds great potential to diversity our mix of electricity sources. It also may be extremely helpful in stimulating the regional economy."
He holds both a J.D. and a Masters degree in Regional Planning from the University of North Carolina at Chapel Hill, and a B.A. from Columbia University. Before joining the William & Mary faculty in 1982, he served on the legal staff of the administration of the Environmental Protection Agency in Washington, D.C., and was a Fulbright Senior Scholar in Taipei, Taiwan. He is a frequent speaker on environmental and property issues, as well as the author of many books, including Controversies in Constitutional Law - Evolution of the Law of Takings and is co-author of Environmental Policy Law and Problems in Environmental Law.
In addition, he has published numerous articles in leading journals such as the Duke Law Journal, the Virginia Environmental Law Journal, the North Carolina Law Review, and New York University's Annual Survey of American Law on topics covering a wide range of environmental law and related constitutional and property issues.
Rosenberg is Chancellor Professor of Law, Associate Dean of Academic Affairs, and Director of the LL.M. Program and Foreign Exchanges at the Law School.
This is not the first time his service has extended beyond the William & Mary campus. In the 1990s, he was appointed by the governor of Virginia to serve for four years on the Chesapeake Bay Local Assistance Board. He worked with several city and county governments, and served as a member of the Executive Board of the Historic Rivers Land Conservancy, Inc., and York County's Planning Commission. Rosenberg has served on the editorial board for the Washington Lawyer, been active in the District of Columbia Bar Association, and has served as Chair and member of numerous American Bar Association committees including the Local Government Law Committee; Section of Natural Resources, Energy, and Environmental Laws; Committee on Environmental Law; Professionalism Committee of the Section of Legal Education and Admission to the Bar and the Editorial Board of the Journal of Legal Education.