Research team 'a match made in heaven'
While their research into how people perceive homosexuality is fascinating, the dynamic collaboration of William & Mary psychology professors Cheryl Dickter and Catherine Forestell alongside an undergraduate student may be even more interesting.
For starters, neither professor is the lead author of the study. That honor goes to Emily Cunningham, a psychology major who graduated in 2011 with a 4.0 GPA and will be returning as a graduate student in William & Mary's psychology master's program this fall. 
Cunningham spent a year conducting the project, performing a variety of tasks including collecting, analyzing, and imputing all of the data, developing the stimuli and writing a majority of the published study.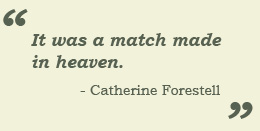 "It's a wonderful demonstration of the William & Mary model of getting students involved in research, because she learned a tremendous amount and even though she's not going into this research area, the experience she gained in all aspects of this study are definitely going to transfer over to what she does as a graduate student," Forestell said. 
In addition to having an adept student researcher on the team, the collaboration between Forestell and Dickter brought together their varied interests to tackle a research question neither would have felt fully qualified to address alone. 
"Our collaboration is wonderful because we each bring to the table very different backgrounds," Forestell said. "Bringing those two backgrounds together made for an interesting paper that I think brings the field forward."
"It was a match made in heaven," she added.