Men's soccer team knocks off No. 1 Creighton
Redshirt freshman Jeff Bombelles scored the game-winning goal in the 107th minute Sunday, lifting the William & Mary men's soccer team to a victory over No. 1 Creighton. The
match
was a part of the Stihl Soccer Classic hosted by Old Dominion University.
With the victory, the Tribe improved their record to 2-2-1, while the Bluejays fell to 4-1-0.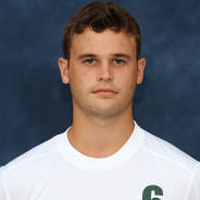 "It is always great to get a result against a top team like Creighton," said coach Chris Norris. "Once we got down in the second half, I thought we picked up the tempo and played much stronger. In the end I thought we deserved to get the equalizer and the winner."
The Tribe wasted little time getting going on offense. In the fourth minute, senior Chris Perez found junior Josh West on a give-and-go. West collected the pass and put the ball in the back of the net, giving W&M a 1-0 advantage.
Just six minutes later, Creighton scored the equalizer. The half ended tied at 1-1. Creighton held a 7-3 advantage in shots, including a 3-1 lead in shots on goal.
Creighton gained its first lead in the 64th minute when Sean Kim fired a shot into the back of the net.
The Tribe scored the equalizer in the 82nd minute. Sophomore Jackson Eskay found junior Chris Albiston just outside of the box. Albiston fired the ball into the back of the net, tying the score 2-2.
William & Mary and Creighton played the final eight minutes of regulation even. The match headed to overtime tied at 2-2.
The Tribe controlled the first overtime but didn't score. The game headed to double overtime.
In the 106th minute, Perez started an attack for the Tribe, finding Ben Coffey out wide. Coffey drove the outside and sent a low cross into the box. There Bombelles one-timed the ball into the goal, lifting W&M to a 3-2 victory.  
The win was W&M's first over a No. 1-ranked team since 2004 when the defeated Maryland at Martin Family Stadium. Under Norris, the Tribe is now 2-1-0 against the top-ranked team in the country.
William & Mary continues a five-match road trip on Friday night, Sept. 20, when the Tribe takes on Elon at 7:30.