An All-Star tribute to Vic Raschi
Editor's note: Since 1965, William & Mary has had 34 baseball players drafted by major league teams, including second baseman Ryan Lindenmuth (Pittsburgh) and pitcher John Farrell (Tampa Bay), who were plucked from the Tribe's 2013 NCAA tournament team. Eleven have progressed through the minor leagues to "The Big Show."

Only one, pitcher Vic Raschi, a star for the New York Yankees in the late 1940s and early 1950s, has ever been selected to an All-Star team. With last night's game from New York barely in the rearview mirror – a 3-0 American League victory in which Yankees reliever Mariano Rivera was named most valuable player – it seems an appropriate time to recall one of the most unique stories in Tribe athletic history. Thanks to Eileen O'Toole, Special Collections assistant at W&M's Earl Gregg Swem Library, for her research help.

Victor John Angelo Raschi, from Springfield, Mass., came to William & Mary in 1939. He finally earned a Bachelor of Science degree in 1949. What transpired during those 10 years was nothing short of amazing.

He arrived on campus with a contract from the Yankees in hand – a deal he signed at age 14 -- plus their commitment to send him to college. He pitched for the Tribe's freshman team, was ineligible for a season before making the varsity in 1941.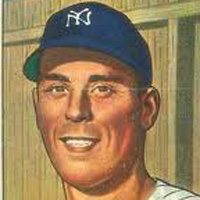 Talk about the world being different back then. The following year, the Yankees persuaded him to drop out of school so he could gain some minor league experience before fulfilling what became a four-year military obligation.

When he returned to the States in 1946, the Yankees assigned him to Newark of the International League before calling him up in the last part of the season. Raschi finished that year with a 2-0 record. He was already 27 years old.

The following year found him in Portland of the Pacific Coast League, where he was 8-2 before New York called him up for good. Raschi won seven of nine decisions, including the 14th and 19th games of the Yankees' 19-game winning streak that brought them the pennant.

It was the springboard for five seasons of excellence.

He also returned to William & Mary in the offseason, intent on obtaining his degree. Going to school from October to February, it took three years, but on Feb. 4, 1949, Raschi received his diploma, joining his wife, Sally Joann Glen '44, as alumni.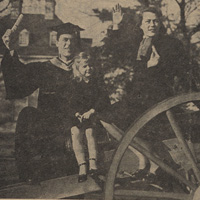 While he was here, he took an active part in the College community, serving as referee for many an intramural basketball game at Blow Gymnasium.

Raschi made the first of four All-Star appearances in 1948, emerging as the hero. Not only did he pitch three innings of two-hit baseball, Raschi drove in the game-winning runs with a single to lead the American League to a 5-2 victory.

He returned to the All-Star game in '49, pitching the final three innings in an 11-7 American League victory. More importantly, on the way to a 19-8 record, he helped the Yankees to a World Series win over Brooklyn. Raschi lost his first start, 1-0, then came back to beat the Dodgers in the fifth and deciding game, 10-6.

The 1950 and '51 seasons were banner years for Raschi, who went a combined 42-18, started the '50 All-Star game and won two of the three World Series games he started.

In 1952, Raschi finished with a 16-6 record, another All-Star start and two more victories over Brooklyn in the World Series. In 1953, he won 13 and lost six and was sold to the St. Louis Cardinals for $85,000.

Plagued by back problems, he finished the last three years of his career winning 12 and losing 16 for the Cardinals and Kansas City Athletics.


"The Springfield Rifle," as he was called, compiled a career record of 132-66 and an earned-run average of 3.72. Raschi, Allie Reynolds and Eddie Lopat formed one of the most acclaimed pitching staffs in baseball history. The trio combined for 53 victories in 1949, 55 in 1950 and 59 in 1951, and guided the Yankees to six World Series titles.
His .667 winning percentage is the fifth-highest in major league history, and he was included on the Baseball Writers Association of America's Hall-of-Fame ballot nine times. He was inducted into the William & Mary sports Hall of Fame in 1969.
He died Oct. 14, 1988, in Groveland, N.Y., at the age of 69.
Two of the Raschi's children attended William & Mary: the late Victoria J. Raschi '67, who died in 2012, and William Raschi Ph.D. '85.