A conversation with honorary degree recipient Lois Critchfield
Since moving to Williamsburg in 1996, Lois Critchfield and her late husband, James, have been among William & Mary's most stalwart friends, especially to the Reves Center for International Studies.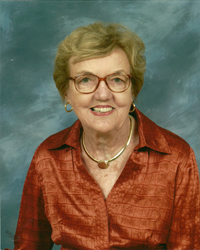 Critchfield has served as a member of the Reves Advisory Council and the Reves Center Steering Committee. In 2003, she created the James H. Critchfield Memorial Endowment for Middle East Studies, which is administered by the Reves Center. Since 2004, the endowment has supported a variety of activities on campus and in Washington, D.C. It has also supported 48 William & Mary students studying from Egypt eastward, including the Levant, the Arabian Peninsula and the Gulf. Every two years, William & Mary hosts the Critchfield Conference in Middle Eastern Studies.
Critchfield will be honored with an honorary degree of doctor of public service during the Charter Day ceremony on February 8.
Q: What attracted you to working with William & Mary when you moved to Williamsburg?  
A: Many people planning for retirement look at communities with college campuses. William & Mary is at the top of the list in that regard. It was first on my list of places to visit after we moved here. 
Q: Why is it important to you to use your retirement time to help expand the study of the Middle East at the university level? 
A: It seems like I have been studying the Middle East most of my life. The unresolved conflicts there represent one of the greatest threats to world peace. Educating our students on the Middle East is the only way to prepare them for dealing with issues my generation has been unable to resolve.
Q: What was your reaction when you found out you would be receiving an honorary degree at Charter Day?
A: As I said to President Reveley, it truly took my breath away! What I have done for William & Mary pales in comparison to the joy and satisfaction I have received in working with everyone on campus. It has been my privilege to associate with the university's outstanding faculty and amazing students, many of whom have become close friends.
Q: What has been your favorite memory of your time with the William & Mary community so far?
A: That is a tough question to answer, there are so many. I guess my favorite day was in October, 2011, when we celebrated the gift of the Sultan Qaboos Professorship for Middle East Studies. 
The very festive event at the Great Hall was highlighted by a Fanfare composed for His Majesty Sultan Qaboos by Professor Greg Bowers and played by the W&M brass quintet. Professor Anne Rasmussen and her Middle East Music Ensemble entertained by playing traditional Arab music. Dignitaries who had traveled from Oman for the occasion were thrilled. Those gestures of hospitality cemented the relationship between W&M and Oman, which continues to produce dividends to this day. 
Q: What does the Critchfield Conference have in store for participants in 2013?
A: When the Asian and Middle East studies program was established in 2012, we thought the perfect theme for the third biannual Critchfield Conference in April 2013 would be to focus on the Indian Ocean, which is the world's energy highway between the Middle East and Asia. We are calling it Navigating The 21st Century Marine Silk Road. 
We look on this conference as a launch pad to prepare today's students to meet the challenges of the strategic Indian Ocean Basin/Pacific Rim region. The conference will investigate situations that are geopolitical, economic, and cultural in nature. 
Along with her work at William & Mary, Critchfield served on the board of governors of the Middle East Institute in Washington, D.C., from 2006 to 2012, and she currently serves on the board of the non-profit Hadetha Foundation, which focuses on the economic empowerment of women in Iraq.