W&M remembers the engaging, entertaining John Lavach
Laughter filled the Matoaka Woods room of the William & Mary School of Education as family, friends, students and colleagues of John Lavach remembered him not just as a professor and a researcher, but as someone who embraced life and encouraged others to do the same.
Lavach died unexpectedly on Aug. 30, at the beginning of his 45th year at William & Mary. Hundreds of people who were touched by his life gathered on Tuesday for a memorial in his honor.
"John went out on top of his game – a full professor, more excited than ever to begin a new academic year," Ginnie McLaughlin told the standing-room only crowd.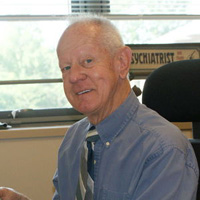 Lavach started his academic career after serving as a paratrooper with the 82nd Airborne. He went on to earn his undergraduate degree from Montclair State College, his master's degree from Fairleigh Dickinson University and his doctorate in education from Duke University. He began teaching at William & Mary in 1967, eventually becoming a full professor. He started his career focused on child and adolescent development. However, in recent years, his focus shifted to cognitive development and dementia in the elderly.
McLaughlin, dean of the School of Education, joined retired United Methodist Campus Minister H. Braxton Allport, Jr., Lavach's nephew Mark, son Chris and daughter Kim in speaking about the longtime William & Mary professor at the memorial service.
McLaughlin recalled having Lavach as a professor when she was an undergraduate at William & Mary. His child development course was so popular that The Flat Hat published an editorial, asking the College to change its 150-student limit on class size just so that more people could take Lavach's class.
"John's classes were fast-paced and entertaining," said McLaughlin. "He was always on the move, back and forth at the front of the classroom. … Students were so engaged that they didn't realize until later how much they had learned and retained from his courses."
McLaughlin was a psychology major when she took Lavach's class, "absolutely determined that I would not go into education," she said. But Lavach and other professors like him changed her mind and, in turn, her life's work.
After the notice about his death went out to alumni, hundreds of them responded with stories of how Lavach had changed their lives, too. The response wasn't a surprise for McLaughlin.
"In my visits with hundreds of alumni over the years, more people have asked about John Lavach than any other faculty member and told me of the impact that he had on them as teachers and as parents," she said.
Lavach's nephew, son and daughter also recalled the professor's love for teaching as well as his love of learning. Throughout his life, he learned how to fly a plane, how to weld, how to climb mountains, how to restore cars and how to play various musical instruments among other hobbies.
Mark, Lavach's nephew, described his uncle as someone who was interesting, insightful, impulsive and intellectual. He said that Lavach taught him that it's not how you start in life, but how you finish.
Lavach's son, Chris, said that he always admired the way that his father could seamlessly move between various circles of people and how he always did things "all the way," fully investing in each new interest, whether it was playing a new instrument or learning to sail a boat.
Kim, Lavach's daughter, recalled her dad blasting songs like Queen's "We will rock you" and her playing near the Sunken Garden while Lavach swept the area with a metal detector for coins and other trinkets. She said that he always put his family – including Pat, his wife of 50 years – first while never ceasing to seize the day in his own unique way.
"John always did things his way," said McLaughlin, recounting Lavach's ingenuity when the mace for the School of Education's faculty marshal disappeared.
"In typical Lavach form, he just found an old wooden table leg that looked a little like the mace, tied ribbons on top, and no one was the wiser," she said. "For all we know, the faculty marshal for the School of Education is still carrying a table leg instead of the actual mace."
Lavach struggled with the idea of retiring, said McLaughlin.
"John loved being a faculty member and couldn't imagine retiring when it was still fun and he was still productive," she said.
The two of them had joked that they would coordinate his decision to retire with her decision to leave the deanship and return to teaching so that McLaughlin could get his office.
"Things certainly worked out differently than we had planned, and now I'd do anything, take any old office just to have John around a little longer," said McLaughlin.
However, she still plans on honoring their agreement. When McLaughlin, who announced her plans to return to step down as dean last year, returns to teaching, she will do so in Lavach's office.
Though some might find that odd, McLaughlin said, she expects "to get lots of warm vibes in that space."
"I just hope that as a faculty member, I can be half the teacher that John Lavach was," she said.