W&M Chancellor makes the case for international education
In a speech earlier this week at the world's largest gathering of international educators, William & Mary Chancellor Robert M. Gates '65 said the United States' top diplomatic tool is global education.
Gates, who retired in June 2011 after serving for five years and under two presidents as Secretary of Defense, gave the keynote address at the annual conference of Nafsa: Association of International Educators.
According to a report by the Chronicle of Higher Education, Gates told the NAFSA audience that education is the cornerstone to international relations for the U.S.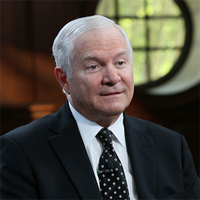 "Connecting students across borders is one of the most effective ways of building understanding across nations," said Gates, who is the only defense secretary in the nation's history to serve two presidents from different political parties – serving under former President George W. Bush and President Barack Obama.
The former secretary brings a unique perspective to the argument for global programs. Prior to becoming defense secretary, he served in numerous capacities in the Executive Branch and worked for eight presidents. He is also the former director of the Central Intelligence Agency – the only career officer in the CIA's history to rise from entry-level employee to become the agency's director. From 2002 to 2006, Gates was president of Texas A&M University.
"We never know when and where America will need allies in this world," Gates said in the Chronicle article on the Nafsa conference. "And no program is more successful at making friends than education in the United States."
In February, Gates succeeded former Supreme Court Justice Sandra Day O'Connor as William & Mary's 24th Chancellor, an honorary position with a long tradition at the university. The NAFSA conference, held in Houston, brings together nearly 8,500 people from 95 countries. Among those in attendance for Gates' address was Steve Hanson, William & Mary's vice provost for international affairs and director of the Reves Center for International Studies. 
"Chancellor Gates's plenary address to NAFSA was an inspiring defense of the crucial importance of all forms of internationalization in higher education, both for the future of U.S. national security and for ensuring an informed citizenry in the 21st century," Hanson said. "Gates recounted the moment of the 2012 William & Mary Commencement when President Reveley asked all graduates to stand if they had been on study abroad or other overseas learning experiences, and about two thirds of the assembled rose to their feet as a stunning example to him of how internationalization is changing today's university.
"In my view, there is no more effective or more eloquent advocate for international education programs today."