W&M a best value, top college in Princeton Review guide
The College of William & Mary has been ranked again among the nation's best colleges.
The university is included in The Princeton Review's "The Best 377 Colleges: 2013 Edition," which was released today. William & Mary is also included in the book's ranking of best-value public colleges.
The College ranked sixth on the "Top 10 Best Value Public Colleges" list. William & Mary was one of only two Virginia universities on the "Top 10" ranking. The other was the University of Virginia at number two.
The Princeton Review does not rank the colleges in the book from one to 377. However, it includes 62 ranking lists of colleges in a variety of categories. Those lists are based on 122,000 surveys from students at the 377 colleges and universities. The surveys asked the students to rate their schools on several topics – such as academics and campus life – and report on their own campus experiences.
Among its ratings, William & Mary earned scores of 91 in the green category, 92 for quality of life and 97 for admissions selectivity. Ratings in each category range from 60 to 99.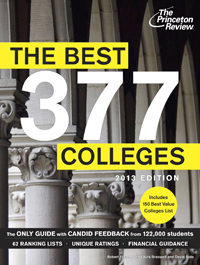 Comments from the student surveys are also included in the book.
"When students describe campus life at W&M, the word community comes up—a lot," the book reports. "And this community 'is made up of incredibly involved, dedicated, and supportive students who have big dreams and big fun,' who say: 'We study hard, but we know how to have fun, too.'"
Some of the comments also praise William & Mary's academics.
"Students at The College of William & Mary are extraordinarily happy with their overall experience and with their academics in particular," the book says. "One student sums up the school's vibe by saying, 'William & Mary achieves a remarkable balance between the dynamic, progressive academics of a liberal arts college and the strong sense of history and tradition one would expect from America's second-oldest school.' 'There are endless and amazing' opportunities here, with an emphasis on undergraduate research that makes W&M unique among small liberal arts schools."
The Princeton Review release comes just weeks after Forbes released its own guide to top colleges. William & Mary was also included in that guide where it was listed as the second-highest ranked state-supported school in the country.