Wittman shows 'Tribe Pride' at congressional baseball game
Williamsburg-area Congressman Rob Wittman (R-VA) showed his Tribe Pride by wearing a William & Mary baseball team uniform in the 51st annual CQ-Roll Call Congressional Baseball Game at Nationals Park in Washington, D.C. on June 28, 2012.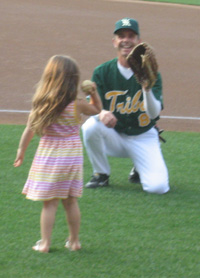 Since its revival in the 1960s, the annual game has given Republican and Democratic members of Congress a chance to demonstrate their skills outside of the political arena. Although they left their suits in the office, the members (and their staffers) brought the politics of the day to the field, bantering about the Supreme Court's historic healthcare decision handed down earlier in the day.
With his Republican colleagues acting as the home team, Congressman Wittman entered the game as a pinch runner and stayed on to play left field.
The Democrats may have carried the day with a score of 18-5, but the real winners were the Washington LiteracyCouncil and the Boys and Girls Club of Greater Washington, both charities that received funding from the proceeds of the game.