Unbeaten women's rugby wins Virginia club title
The William & Mary women's club rugby team not only knows how to win, but how to do it with style.
For the second consecutive year, the Tribe captured the Virginia League of the National Small College Rugby Organization (NSCRO), finishing 4-0 in the regular season with victories over Virginia Military Institute, the University of Richmond and Longwood University.
Last Sunday, the women began playoff competition with a 36-33 victory over Longwood to advance to the next round against Malloy College in Cherry Hill, N.J. on Nov. 4.
On Saturday, the team will hold its annual homecoming game, 10 a.m. on the Intramural Field next to the William & Mary Hall parking lot. It's not your ordinary alumni game; players from previous teams not only return, they participate.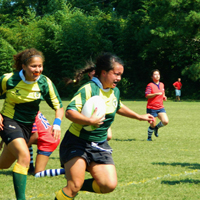 The 2012 team's last two victories have been over Longwood – both on the final play of the game, meaning the referee announced to both teams that once the ball was stopped on the next possession, the game was over and the team leading would win.
In the first of those, the Tribe trailed, 27-22, when the last play began. Keeping the ball away from Longwood, W&M moved steadily down the field until, finally, Aves Muri '13 crossed the goal and touched the ball to the ground to gain five points and a tie.
Maggie Olney '14 then booted the conversion to give the Tribe a two-point victory.
Olney played an even more significant role in the playoff game. This time she received the ball from scrum half Courtney Greer'13, broke several tackles and evaded the tackle attempts of several other defenders. She ran the ball into the end zone, touched it down then made the conversion kick as well.
"It was a back and forth game all the way to the end," Olney said. "It wasn't a set play, but it did put to use some of the attacking strategy that we had been working on going into the match. It was really encouraging to our team that we were able to beat them twice by playing good, clean rugby as a team."
Only one of the 25 women on the team had rugby experience before coming to W&M. The team practices for two hours, three times a week, and numerous players have assumed key roles in the team's success. Among them are scrum half Courtney Greer '13, flanker Gussie Maguire '14, fullback Aves Muri '13, wing Darien Fontanez '14, eight man Kiki Odom' 15, hooker Stacy Lewis '12 and lock Shannon Sickelka '13.