Tribe trio to get their shot at the NFL
Three William & Mary football standouts signed free-agent contracts with NFL teams following the annual draft last weekend.
Running back Jonathan Grimes joined the Houston Texans, while tight end Alex Gottlieb will head to the Detroit Lions. Meanwhile, defensive end Marcus Hyde signed with the Washington Redskins.
The most decorated player in Colonial Athletic Association history, Grimes finished his collegiate career with 11 all-conference honors and owns W&M's all-time records for rushing yards (4,541), all-purpose yards (7,955) and kickoff return yards (2,289). Additionally, he ranks third on the CAA's career all-purpose yards list and sixth on the league's career rushing yards list.
As a senior, Grimes earned All-America honors from four organizations and finished fourth in the final voting for the Walter Payton Award, which honors the nation's top FCS player. Grimes led the nation with 228.2 all-purpose yards per game and ranked sixth in the country with 130.1 rushing yards per game. The Palmyra, N.J., native also set single-season school records with 2,510 all-purpose yards, 1,431 rushing yards and 817 kickoff return yards.
A two-time All-America selection, Gottlieb finished his collegiate career with 75 receptions for 905 yards with five touchdowns. Twice a first-team all-conference honoree, Gottlieb averaged 12.1 yards per reception during his four years at the College.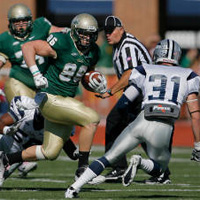 As a senior, Gottlieb ranked second on the team with 33 receptions for 424 yards with a touchdown, while his average of 12.8 yards per catch ranked just outside the league's top 10. He was especially productive in conference action, as he totaled 26 receptions for 332 yards and recorded multiple catches against all eight league opponents.
Hyde, a two-time all-conference selection, totaled 52 tackles, 10 tackles for a loss, 6.5 sacks, five pass break-ups, a forced fumble, a fumble recovery and a block his senior season. His sack total tied for third in the league, while his 4.7 tackles per game ranked sixth among defensive linemen.
As a junior, Hyde also earned second-team all-conference honors after ranking tied for second in the CAA with 5.5 sacks and tied for sixth with 12.5 tackles for a loss. Additionally, he ranked third in the league among defensive linemen with 5.2 tackles per game.
Hyde, who likely will be tried as an outside linebacker with the Redskins, finished his career at W&M with 144 tackles, 18.5 sacks and 32 tackles for a loss.
Hyde, Grimes and Gottlieb will join a group of five other Tribe players who were on NFL rosters last season: David Caldwell (Colts), Derek Cox (Jaguars), Mike Leach (Cardinals), Sean Lissemore (Cowboys), and Adrian Tracy (Giants).