Tribe soccer helping Stowe '11 battle cancer
The William & Mary soccer family has created a
website
to support former Tribe men's soccer player Ian Stowe's  '11 battle with cancer –
StoweStrong.com
. 
In January of 2012, a tumor was discovered on Stowe's brain stem. A four-year letter-winner at W&M, Stowe was diagnosed with Germinoma, a type of germ cell tumor typically resulting from a failure of germ cells to migrate properly in the body.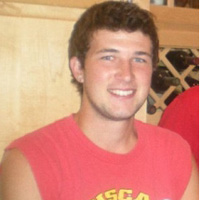 He will soon move from Inova Fairfax Hospital to MCV at Virginia Commonwealth University in Richmond, Va., to begin chemotherapy and radiation treatments with the goal of eradicating the tumor. 
The website was created to spread awareness to family, friends and all those close to Stowe about his current situation. One of the primary goals of the site is to help Stowe and his family offset the impending medical expenses associated with his treatment program. The site will also provide frequent updates as to the status of his road to recovery. 
Complete information can be found at
StoweStrong.com
.