STEM Outreach: Excellence in math doesn't have to be boring
Editor's note:  This is one of a series of stories from Ideation magazine on the various STEM-outreach initiatives at William & Mary, programs that reach out beyond the walls of campus to increase understanding and appreciation of the STEM disciplines—science, technology, engineering and math. The full series of stories is available here.
The Tidewater Team is helping fourth- and fifth-grade students get their hands dirty—creating mini-ecosystems, fictional animals, volcanoes and ice cream makers. But the fun and games are just sneaky hands-on ways to teach math and science concepts.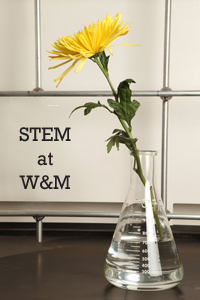 "Unfortunately, many people think of math as just memorizing facts or just doing algorithms, and I can't tell you how many times you hear, 'Why do I need to know this?'" said Margie Mason, a professor of education at William & Mary. "Here, we are capturing kids' imaginations, we're getting them actively engaged, and they're seeing a purpose for math and science. Plus, we're bringing in the engineering component, as well, that I think really helps. It gets the kids just so excited about what they are doing."
The hands-on projects are just one of the many strategies that the Tidewater Team, based in William & Mary's School of Education, employs to "encourage best practices in the teaching of mathematics to promote math excellence" in more than 20 school districts.
The team has a different focus each year, based on input from the Virginia Department of Education and from the school districts served. The team also provides resources (such as a math vocabulary dictionary), professional development opportunities—even a support group for math teachers, specialists and supervisors. In addition, the team collects data from the schools for research to be conducted by graduate students at William & Mary.
The Tidewater Team was born out of Mason's desire to get to know math teachers and specialists at local school divisions better.
Mason organized a series of meetings with a group of local math specialists or supervisors. The meetings at first focused on grants, but they soon expanded their focus to include a wide range of concerns and interests. The group now meets monthly with Mason and other Tidewater Team members to discuss upcoming grants, needs assessments, possible collaborations and even books.
The members of the group hail from a variety of districts—some large and close, like Norfolk or Chesapeake, and others smaller and more distant, like Lancaster or Northumberland.
"If you want to talk about a diverse population, we've got it," said Mason. "It's excellent for research because you have just about every kind of demographic."
At one of the most recent Tidewater Team meeting with the group, the discussion focused on the fall Standards of Learning (SOL) scores in algebra and geometry, which plummeted by a surprising amount. Mason said that educators had expected the scores to drop somewhat.
 "They revised the standards in 2009 and this is the first time they've tested those new standards," she said. "But they've also upped the rigor considerably and they have also put in technology-enhanced questions that are not multiple choice. Everyone expected scores to fall, but it was still a shock."
Based on that discussion, Mason is now writing grant proposals to fund teacher-training initiatives to meet the challenges posed by the revised algebra and geometry SOLs.
Revisions to the SOLs are a continual concern for math teachers, Mason noted. Train-the-trainer programs, usually conducted during the summer, are one of the Tidewater Team's strategies for addressing challenges of the SOLs
The most recent train-the-trainer program reached about 500 middle school math teachers through instruction to representatives from the districts.
 "We brought leaders together from all of the school divisions and ran them through a one-week workshop on the changes to the SOLs in the seventh and eighth grade and how to teach them to teachers and how to teach them to kids," Mason said. "We sent them home, and with the support of our coaches, they trained people in their own building – the entire staff of seventh and eighth grade."
Some of the Tidewater Team's initiatives are aimed directly at students. A summer science camp for fourth- and fifth-graders was preceded by a workshop for their teachers.
"We helped the teachers and then they tried it out with the kids and now they're going back into their own schools and teaching full-blown units," said Mason.
The teachers are using the units partly in their science classes and partly in their math classes, said Mason. At the same time, students are also learning technology and engineering concepts. The best part, she said, is it's all done while having fun.
"This isn't to say that the kids aren't learning the basic concepts in math, how to do computation, but they're also learning how to problem-solve. They're learning how to make connections. I think that is where we need to be. We aren't successful when all the kids do is memorize, memorize, memorize or do algorithm after algorithm," said Mason.
"If they can see the use to math, and this gives them something to visualize, I mean wow. It's really neat."
But the Tidewater Team's partnership with local school districts doesn't only benefit students and teachers. It also benefits William & Mary, said Mason. Not only do faculty and students at William & Mary gain a treasure trove of data to mine from the partnerships, but they also get an insider's view into K-12 education.
"I've learned what the issues are in the public schools in a much better fashion than I ever could just sitting at the College," said Mason.
That, in turn, helps the School of Education better prepare its students to be the teachers of tomorrow.
"It helps us prepare our teachers so much better than we could otherwise," said Mason.
Mason said she loves hearing from teachers who have benefitted from the Tidewater Team— whether they are sharing their successes or asking for help with a new problem.
"That's what teaching is all about—seeing how they're responding and then how their students are responding. It's just fantastic."