Schoenberger featured on public radio's With Good Reason
William & Mary's Nancy Schoenberger is featured this week on the public radio show With Good Reason.  The program is heard around the Commonwealth and in select markets across the country on public radio channels. Check broadcast times.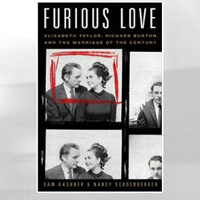 The segment, "Furious Love," is titled after Schoenberger's book by the same name on the lives and love affairs of famed actors Richard Burton and Elizabeth Taylor. Schoenberger is a professor of English at the College. She co-authored the book with her husband, and journalist, Sam Kashner. Furious Love: Elizabeth Taylor, Richard Burton and the Marriage of the Century differs from other accounts of the duo's relationship in that it is based on correspondence between the couple. Taylor allowed Schoenberger and Kashner access to almost 40 love letters the suave Welshman wrote to her, as well as some of his poetry.
An audio file of the full program and its companion news feature may also be accessed online.