Music to his ears: Nelson wins Pickering Fellowship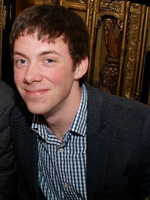 Jake Nelson '11 had never been out of the country before attending the College of William & Mary. His farthest destination was a trip to Sonoma, Calif., for a family reunion.
That all changed once he began his college career as a music and French double major. He became a peripatetic student, studying abroad in France at Univesité Lumière Lyon II and conducting research on orientalism in Tunisia as a James Monroe Scholar. His love and involvement with campus music organizations such as the Gentlemen of the College and the William & Mary Choir scored him trips to Costa Rica, Greece and Italy.
Now, Nelson can be sent anywhere in the world, at anytime, in response to the diplomatic needs of the United States. He's the recipient of a 2012 Thomas R. Pickering Graduate Foreign Affairs Fellowship, one of only 20 graduate students nationwide chosen for the program.
"For me, joining the Foreign Service is the best possible way to learn about the world, be a positive influence and represent the United States," said Nelson, who grew up in James City County, just minutes from the College.
As a Pickering Fellow, Nelson will attend Yale University this fall and receive financial support for his post-graduate work. He's pursuing a Master of Arts in European and Russian Studies. 
He'll also participate in two paid internships. The first will be with the State Department in Washington, D.C., and the other overseas at a U.S. embassy or consulate. In return, he'll dedicate three years of service to the Department of State as a Foreign Service officer.
It should be a seamless transition for Nelson, who since December 2011 has been working as a foreign affairs specialist in the Bureau of European and Eurasian Affairs for the State Department. He's the Bureau's lead on the UN Security and Human Rights Councils, and works on issues related to human trafficking, human rights and religious freedom.  
Nelson said his experience at William & Mary prepared him for life and career in public service. He tirelessly worked to enrich the campus community, serving as a co-editor in chief of the DoG Street Journal news magazine, advocating for student rights as a liaison between the Student Assembly and the Board of Visitors, and working as a student representative with the College's Committee for Equal Employment and Sexual Harassment. 
"I wanted to take all the things I had learned in college, such as literature from Africa and music from the Middle East, and play a positive role in the world in my job," he said.
Since 1945 the Woodrow Wilson National Fellowship Foundation has been providing support for students to prepare academically and professionally to enter the U.S. Foreign Service. Former William & Mary Pickering Fellow recipients are Alexander Bellah '11 (2010), Gabriela Arias '11 (2010), Shay Jannat '10 (2008), Harry Bethke '08 (2008) and Demetria Scott '96 (1995).
"I'm honored to be a Pickering Fellow and follow in the footsteps of one of William & Mary's most notable alumni, Thomas Jefferson," said Nelson. Known for his foreign policy efforts, Jefferson was the first Secretary of State appointed by President George Washington.
 "And I've got big shoes to fill," he said, laughing.