Lemon Project 2012: The journey continues
It was the type of discussion, potentially poignant and painful, that the
Lemon Project
was designed to explore.
Led by a panel composed of a 1952 graduate of Bruton Heights School, a former faculty member, and a 1965 graduate, the question was asked: What did William & Mary mean to you back in those days?
The answer: Almost nothing.
Bruton Heights graduate Edith Heard only half-jokingly answered that Williamsburg blacks ignored William & Mary because the school's football and basketball teams were unsuccessful.
"William & Mary did not mingle with us," she explained more seriously. "Our school choir had clinics at Virginia State, Howard, Hampton. We traveled to these different schools, and we saw black mentors, people who were good-looking and smart, the most responsible people in the world. You had nothing to offer.
"We didn't think about William & Mary; we'd go right by it and not even think about it. But now I think about it; I want my grandchildren to go there."
Vivian Brown Bland, a 1952 Bruton Heights graduate, added that having student teachers from Hampton Institute, Virginia State and Virginia Union – but not from William & Mary – further isolated the College.
"We so admired those young people," she said. "William & Mary meant nothing to me."
However, Bland continued, she earned her master's degree from the College in 1967.
The epilogues to Heard's and Bland's comments should have put a smile on the faces of everyone connected with the Lemon Project's second annual conference, held on March 17 and entitled "The Journey Continues: Learning from Difference." One hundred forty members of the College – faculty, staff and students – and members of the Williamsburg area community convened to reflect on the past and its impact on the present and future.
"We are all very pleased with the success of the symposium," Lemon Project Managing Director and co-Chair
Jody L. Allen
said. "Word of the Lemon Project is spreading and people are coming to see what it's all about.  What they are helping to build is an environment where residents, faculty, staff and students can come together to teach,
learn, and share. In the end, this will lead to a stronger community for all."
The growing number of participants is an indication that significant progress is being made toward the goal laid out by Provost
Michael R. Halleran
in his opening remarks.
"In April 2009, our Board of Visitors gave us license and authorized us to . . . [embark] on a journey of reconciliation. The purpose of the Lemon Project is not simply to come up with new facts, new information, though that is critical. Rather, it is to use that knowledge to come to a better understanding of the past as a way to move forward productively, and as a group into the future.
"We [the Board} are saying we want you to go out and come to as deep and rich and nuanced and full an understanding as possible – not as a historical exercise, but to take that information and help us live better lives," Halleran said. "That's really what we're trying to do."
In the three years since its inception, the Lemon Project has won an "Image Award" from the College's student chapter of the NAACP that celebrated "the efforts and accomplishments of students, staff, faculty and local community groups who strive to build bridges across lines of difference and foster a truly inclusive community."
They've brought special speakers to campus, including John Boyd, president of the National Black Farmers Association, and organized classes. One of those focused on the life of Henry Billups, a laborer at the College from 1888 to 1955. That class also created an exhibit about Billups for Swem Library.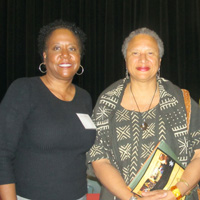 The project is named for Lemon, a man who was once enslaved by the College. Though he was legally the property of the College, his relationship with William & Mary was complex. Though he owned neither his work nor his person, Lemon grew and sold produce to the College. He even received a Christmas bonus from the College, at least once, and the College eventually paid for his medical supplies, gave him money for food and purchased his coffin.
In that sense, Lemon is symbolic of the College's somewhat perplexing slave history, a topic being carefully researched from myriad angles.
In addition to the opening discussion "Jim Crow Education in Williamsburg," moderated by Robert F. Engs, former visiting distinguished professor and Lemon Project Consulting Scholar, there were 3 other panels, a reenactor from Colonial Williamsburg, a question-and-answer session and a performance by Ebony Expressions.
Jackson Sasser
, visiting assistant professor in government, chaired "The Rockefeller's Colonial Williamsburg Dream and African-American Community," presented by Danielle Greene '12; and "A Persistent Romance: The Progress of Interracial Relationships in Virginia," presented by Andrew Ojeda '12.
Betsy Schlabach
, visiting assistant professor in history and American studies, presided over one panel which included two papers: "The Early Development of William Short's Abolitionism," presented by John P. Mohler '12, and "Property and People: The Construction of James Monroe's View on Slavery," presented by William F. Rison '12.
Meghan Holder, Lemon Project fellow and Ph.D. student in American Studies, presided over the presentation of three papers: "In the Shadow of the Wren Building: Archeological Perspectives on Slavery at the College," presented by Stephanie Bergman, Ph.D. student in anthropology; "Creating Her World With her Words: The Letters and Speeches of Maggie L. Walker," presented by Emma Caterine '12; and "Reconstructing History at William & Mary," presented by
Terry Meyers
, chancellor professor of English at the College.
Following lunch, attendees were treated to performances by Colonial Williamsburg interpreter Emily James, as Edith Cumbo, and the College's Ebony Expressions Gospel Choir. A question-and-answer session with Lemon Project co-chairs, Meyers and Allen closed the conference.
"While much progress has already been made on the Lemon Project, it remains still relatively early in its gestation," College President
Taylor Reveley
told those in attendance. "There is much more to come during the next few years. Our hope is that this effort will have a serious impact on the campus, on the larger Williamsburg community, and on scholarship. The Lemon Project matters to William & Mary."