College contributes to successful second Run for the Dream
The 2012 women's Fit to Run, Fit to Dream 8-kilometer Masters race, staged Saturday at and through the College of William & Mary, was a repeat of the 2011 version.

Texan Chris Kimbrough won. Former William & Mary track star Sonja Friend-Uhl '93 finished second.

But there was one important difference that could have a dramatic impact on Friend-Uhl's immediate future – her health.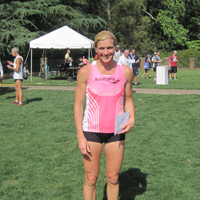 A year ago at this time, Friend-Uhl was crippled by allergy-induced asthma, brought on by a recent move to Nashville, Tenn. Today, those problems have been addressed, and her recent race results show it.

Three weeks ago at Vanderbilt, Friend-Uhl set an American Masters record (40 or older) in the 1500-meter race at 4:16.99, a mark that makes her a provisional qualifier for the Olympic Trials. Since then, she's clocked a 2:09 in an 800-meter race at Georgia Tech.

Neither of those is particularly helpful in preparing for an 8k, but Friend-Uhl wasn't going to miss a return trip "home."

"I felt great today; I'm just not in 8k shape," she said. "I've been running 40 miles a week as opposed to training for a mile.

"At about 3.5 miles it started to wear on me. I don't have the endurance in me right now, and Chris is such great distance runner."

Friend-Uhl had the lead for the first 1.5 miles then ran with Kimbrough for another two miles before falling back and finishing 10 seconds behind the 42-year-old mother of five.

That was by far the closest of the weekend's four races, proceeds from which support An Achievable Dream and Wounded Warriors. The former is a program for at-risk youth in Newport News.

Kevin Castille, who turned 40 on St. Patrick's Day, blew away the field in the men's Masters 8k. Castille ran the distance in 24:17, nearly one minute faster than former Marine Corps Marathon winner Chris Juarez and 1:08 better than 2011 Fit to Run, Fit to Dream 8k runnerup Mark Andrews.

"Great course," Castille said when he was done. "I hadn't seen it before the race. I don't believe in that. It's like the weather – there's nothing you can do about it.

Castille broke out immediately, took a 50-yard lead after the first mile, and wasn't seriously challenged.

"I planned to run as hard as I can, with or without people (around him)," Castille said. "It didn't matter."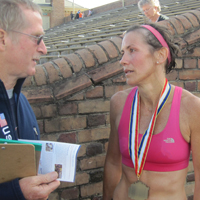 A Williamsburg woman, Jennifer Quarles, won the women's half marathon on Sunday, finishing almost three minutes ahead of Gretchen McDonough of West Virginia.

The men's half-marathon title went to 26-year-old epidemiologist Greg Mariano of Arlington, who finished 2:05 ahead of Edi Turco, who works for the Italian Air Force in Washington, D.C.

This race was over quickly. Mariano literally ran the final 12 miles of the 13.1-mile event alone except for the occasional hand cyclist (they went off four minutes before the runners) and the media and sponsors' trucks.

"The only thing I didn't like about the race was inhaling the exhaust fumes from the truck the whole time," Mariano said. "It made me want to throw up."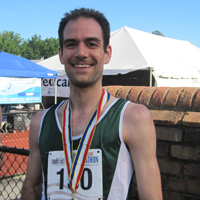 Mariano turned around only once during the race, at about the nine-mile mark, which appeared while he was on the Colonial Parkway. At that point, there wasn't another runner for as far back as the eye could see.

For the second year in a row, the Sunken Garden served as the location for the post-race bash, with free beer and barbeque for the contestants. Actor Joe Mantegna, who is actively involved with the Wounded Warriors program, was in attendance there as well as at a salute to America celebration Saturday night at the Governor's Palace in Colonial Williamsburg.