Chinese Student Art Troupe wows Kimball Theatre audience
It was the epitome of cross-cultural artistic expression, and quite likely one of the benefits both universities had in mind in December of 2010 when William & Mary and the University of Electronic Science and Technology of China (UESTC) agreed to become "sister" universities.
Dressed in eye-popping bright blazers and white slacks, four young men took over center stage at the Kimball Theatre on Sept. 30 with a moving rendition of "You Raise Me Up," the anthem of gratitude made famous by, among others, Josh Groban and Celtic Woman. The song, which is also immensely popular in China, was part of an evening of performances by the UESTC Student Art Troupe that was sponsored by the university and the William & Mary Confucius Institute.
Established in 2011, the charge of the William & Mary Confucius Institute is to promote Chinese language and culture at the university and in the central and southeastern regions of Virginia.
Once the applause subsided, the four men, joined by female vocalists Hao Yihua and Hu Yue, launched into "Rolling in the Deep," one of Adele's throaty lamentations about love gone wrong.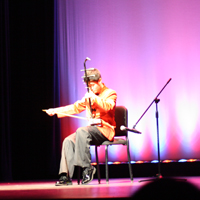 They quickly cleared the stage, replaced by Chen Chaoyue, performing a solo on an erhu, a challenging traditional Chinese musical instrument that has just two strings. Chaoyue took on "Galloping and Neighing Steeds," a made-for-erhu piece that requires unique techniques to depict a moving picture of cavalries guarding the frontiers.
Slightly less than two years ago, William & Mary and UESTC entered into an arrangement that both sides hoped would generate a wide range of mutually beneficial educational and research initiatives. The agreement came after UESTC Vice President of International Affairs Wang Houjun and other officials toured the W&M campus and met with scholars, researchers and administrators.
"We look forward to an exchange of faculty and students in academic programs and cultural exchanges between Chengdu and Williamsburg," President Taylor Reveley said at the time.
Sunday was the personification of that agreement.
"With its clever blend of traditional Chinese genres and occasional contemporary Anglophone pieces, the performance served as a vibrant symbol of the bond between our two institutions," said Provost Michael R. Halleran.  "While our partnership is focused on academic connections, it was wonderful to see the connections extend so powerfully through these artistic performances."
 
The remainder of the uniformly spectacular program Sunday showcased a traditional Tibetan square dance, songs that celebrated the power and vigor of the Chinese people, the hard-working ethnic group of Qiang and, of course, love. There were flute and violin solos, a folk-instrument depiction of "A Moonlit Night on the Spring River," one of the 10 most famous classics in Chinese folk music, several "mini-musicals," and even a dance from the American iconic musical, "Grease."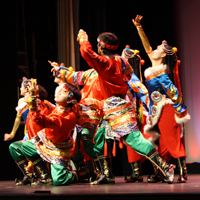 A near-capacity audience loved every minute, and seemed especially appreciative of the fact that although a few of the performers were English majors, others carried majors in fields such as Economics and Management, Electronic Information Engineering, Communication Engineering, Circuits and Systems and Electromagnetic and Wireless Technology.

"I was delighted to find such professional talent as singers, instrumental musicians, dancers, and choreographers among students of engineering and science," offered Dennis M. Manos, vice provost of research and graduate/professional studies. "Clearly, UESTC, as William and Mary's sister school in Western China, embodies our most valued notions of combining liberal arts and sciences in educating its students. The faculty and staff at UESTC, and their leaders, including their president and deans, have imparted a love of creative expression that will serve these students well in their future endeavors."

The evening began with a reception in the lobby of the Kimball. One of its purposes was to celebrate the Mid-Autumn Festival, which is celebrated each year in early fall in China and this year fell on Sept. 30. Tea and mooncakes, the traditional pastry served during the festival period, were served.

Soon after the show started, several performers left the state and draped long silk scarves over the necks of UESTC President Wang Jinsong and members of the William & Mary administration. At the end, the delegates took to the stage to congratulate and take photographs with the UESTC students.
"The skill of the musicians and dancers from UESTC at this performance was simply astounding, especially considering that they almost all of them are studying advanced engineering at their university," said Stephen Hanson, vice provoist for international affairs and director of the Reves Center for International Studies. "The evening was a great celebration of the growing friendship between UESTC and William & Mary."