STEM Outreach: Center for Gifted Ed offers new enrichment program for 7th graders
Editor's note:  This is one of a series of stories from Ideation magazine on the various STEM-outreach initiatives at William & Mary, programs that reach out beyond the walls of campus to increase understanding and appreciation of the STEM disciplines—science, technology, engineering and math.
While William & Mary's students are away from campus in summer, a new—and considerably younger—set of students will take their place in the dorms and in the classrooms, learning about science and cutting-edge technology.
Fifty-five seventh graders from school districts around the region will participate in a two-week enrichment program for gifted learners, hosted by William & Mary's Center for Gifted Education, part of the School of Education. The program, which will be residential for the first time in 2012, has been specifically offered to students from low-income backgrounds who may not have the chance to participate in similar programs because of financial constraints. Tracy Cross, executive director of the Center for Gifted Education, believes that the new residential program from the center, "Camp Launch," will set students with low-income backgrounds on a trajectory for continued success in school and in their communities, thus creating a pipeline to university opportunities.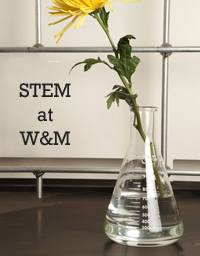 The program is the latest STEM-outreach offering from the center, which has provided science, math and technology classes to gifted pre-collegiate students through its Saturday and Summer Enrichment Programs for more than two decades. Additionally, the center's Focusing on the Future program exposes students to possible careers in STEM areas as well as many other disciplines.
Two courses each day
The 2012 Camp Launch session will be held July 15 -28. Sessions will include two courses each day, one focusing on Lego robotics and another focusing on nanotechnology.
Mihyeon Kim, director of the pre-collegiate learner programs for the center, said that Cross and his program directors decided to address the demand for STEM (science, technology, engineering and math) education.
"The funding agency, the Jack Kent Cooke Foundation, requires us to build a program in the area of STEM, and we thought it's reasonable because when we run the summer enrichment program, we open a lot of different areas and offer courses in different disciplines, but mostly parents want STEM areas," she said.
This desire for increased instruction in science and math is part of a nationwide trend as the United States tries to compete with other countries in the world of STEM, she said.
In addition to the academic courses, the program will also offer a personal development component, which will include career planning and writing instruction. Writing skills are extremely important to students who plan to take advanced academic courses, Kim said.
"If they don't have those skills, even in the STEM portion, it's hard to catch up in those rigorous courses," she said.
Importance of personal development
The personal development aspect of the program is important because "gifted students have social and emotional needs, too, and they have some issues with other heterogeneous groups within the schools," said Kim. The personal development component aims to help the students have some self-efficacy, she said, "not just academically but for their life skills, too."
After regular academic courses including writing and personal development courses, the students will engage in physical activity and extracurricular clubs, such as debate, chess, drama or art. The students will also participate in some weekend activities—like a visit to Colonial Williamsburg—that will take advantage of the College's unique location and surrounding resources.
The center decided to target low-income students after conducting a survey of previous participants and finding that only two percent of their participants were from low-income households.
"I never had enrichment opportunities when I was growing, so I felt like it's not fair," said Kim. "With those enrichment programs, they can be encouraged and then they have more opportunities to grow more for their life and for our society, too. But they are disadvantaged."
The center received a $250,000 renewable grant from the Jack Kent Cooke Foundation to fund Camp Launch.