Celebrated jazz poet Jayne Cortez to perform on February 9
Internationally celebrated jazz poet
Jayne Cortez
will perform her original works on February 9 at the Muscarelle Museum of Art on the campus of the College of William & Mary.
Cortez, who will be accompanied by an instrumentalist, will perform from 7-8:30 p.m. The event is free and open to the public, and parking at the Muscarelle Museum is plentiful. A reception will follow.
The museum is located at 611 Jamestown Road.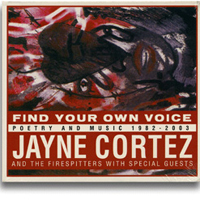 She has presented her poetry, known for its political, surrealistic, dynamic innovations in lyricism, and visceral sound, at universities, museums, and festivals in New York, France, Germany, Brazil, China, South Africa and Finland, among others.
Her poems have been translated into many languages and widely published in anthologies, journals, and magazines. She is the recipient of awards from the Arts International, the New York Foundation on the Arts, National Endowment for the Arts, the International African Festival, as well as winning the Langston Hughes Award and the American Book Award.
Cortez was born in Arizona, grew up in Los Angeles, and currently lives in New York City. She is the author of ten books of poems and has performed her poetry with music on nine recordings.
She founded and is president of the Organization of Women Writers of Africa. The Dictionary of Literary Biography asserts that Cortez has distinguished herself as "a creative artist uniquely able to reach audiences for whom books of poetry have little appeal." Critic Barbara Christian notes that Cortez "has forged connections in her work that help us see how our histories are related. The result is a poetry as wide in its scope as it is compelling in its craft."
Her latest work is entitled "Find Your Own Voice."