Benothmane connecting the world through her art
Najoua Antar-Benothmane is not your average William & Mary student.
She is wife and mother of three daughters. Born in Tunisia and raised in France, she speaks five languages. She already holds two degrees and a 4.0 grade-point average, but isn't done yet.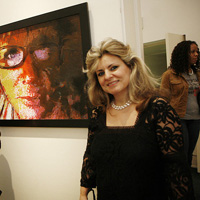 A double major in French and Francophone Studies and Art at the College, Antar-Benothmane is working on her Bachelors degree and intends to pursue a Masters of Education. She moved to the United States in 1993 when her husband came to work at Duke University.
It is as an artist and community-service advocate that Antar-Benothmane is making a mark in this country. Since coming to Virginia in 2009, she has volunteered in the art room of Dare Elementary in Yorktown, Va., volunteered at the Peninsula Fine Arts Center, donated a painting to Centerstage Academy in Yorktown, painted a mural for fifth-grade graduation at Dare Elementary, painted a mural for a prom party at York High School, and donated a painting to the Tunisian Embassy in Washington, D.C.
"I am a passionate artist, but also a strong believer in community service," she said in a recent interview. "I realized that I could extend my civic engagement through volunteering in art."
Her bond with Tunisia remains as strong as her love for France and the United States. Two years ago, she was named a Tunisian "cultural ambassador" by the Tunisian Community Center in the United States. At one time, she was in charge of public relations for Med-Euro-Naut, an association working to bridge relations between France and Tunisia by creation of a boat race known as "la Bordee Bizertine."
"My painting 'Peace on Earth' is the representation of these three countries (France, Tunisia, and the United States) – united and getting along with each other," she said. "With my paintings, I want to bridge the gap and connect them, in my own way. I believe that people everywhere are connected, and that art is a universal language."
Until April 8, one of her paintings will be on display at the Charles H. Taylor Art Center in Hampton, and is open to the public. She was selected to be part of a juried show entitled "Artists Who Teach."
"I am blessed to have been selected to be part of the show," she says.
Her W&M experience also has been a blessing. She cites professors Katherine Kulick, Michael Leruth and Bill Barnes "for helping me become a better person here at the College." Terri Poteet of the Registrar's Office holds a special place in Antar-Benothmane's life for her help in getting French credits from other schools transferred over.
When asked what sort of mural she would paint at W&M if such an opportunity arose, the "eco-feminist" in her springs to life and she chooses her surrealistic portrayal of Mother Earth and Global Warming, entitled
Gaia's Global Warming, Gaia's Global Warning
.
"The painting raises the problem of global warming and sends a global warning," she explained. "It is about the concept of how women and nature are closely connected. It is about the oppression and abuse of women, and of our precious earth, source of life and our life."