1967 football team honored at Saturday's Homecoming game
Pete Kalison was sports information director at W&M from 1955-57. He and his wife were in the stands the day this game took place.
On Saturday, the Tribe Athletics Program will recognize the 45th anniversary of the 1967 William & Mary football team's remarkable upset of the Naval Academy, 27-16, at Navy-Marine Corps Memorial Stadium in Annapolis. 
On Oct. 21, 1967, the Tribe defeated a Navy squad that was regarded as one of the tops in the nation and ranked No. 1 in the East.  For decades, the game remained on almost every list of the 10 greatest upsets in the history of college football.
The 1967 Indians (as W&M was called then) played a major Division I schedule — there was no Football Championship Series — and played in the Southern Conference. The team was coached by Marv Levy, who arrived in 1964 after having been fired at California-Berkeley following the 1963 season.
He had been hired by W&M President Davis Y. Pachall "to bring stability to the football program."
"It was probably my last chance in coaching," Levy said. "I was disillusioned by my experience at Cal. However, I loved W&M  — everything: the campus, the academic standards and the people from the day I arrived. We had wonderful support from Dr. Paschall, and I found my W&M players to be intelligent and wanting to succeed."
Levy's teams won a few more games than they lost his first three seasons, something the Indians hadn't been able to do since the late 1940s, but not much was expected as the 1967 season approached.  The team started out 1-3, but suddenly began to click. A tight 14-12 loss at Vanderbilt was the third loss, and big road wins then followed at the Tobacco Bowl in Richmond over VMI, 33-28 and at Ohio University, 25-22.
Starting quarterback Mike Madden was injured in the VMI game and was replaced by Dan Darragh, a Pittsburgh native. Darragh played well in the Ohio game, leading the team from behind three times, twice in the second half. Madden had been a very good running quarterback, so Levy had to retool the offense to take advantage of Darragh's superior arm. The 6-foot-3 quarterback found very good receivers in lanky Jim Cavanaugh and a 5-7, 155-pound slot back named Steve Slotnick.  He also had a good tight end, Ted Zychowski, who could block as well as catch the ball.
A tough running and blocking back, Terry Morton took some pressure off Darragh, and a rapidly improving offensive line –Ralph Beatty, Bob Shay, John Yonishonis, Brad Cashman and All-Southern Conference co-captain, Bob Herb—began to develop into a cohesive blocking group.
Despite all this progress, W&M was given no chance by the oddsmakers, and was anywhere from a 21- to 28-point underdog, to a Navy powerhouse ranked sixth in the nation. The Midshipmen were coming off consecutive wins over Michigan, Penn State and Syracuse. On top of that, William & Mary hadn't beaten Navy in 25 years, a 3-0 win in 1942 by perhaps the College's greatest team ever. W&M had lost 14 games and tied one against Navy since then.
Levy later would say that there were several basic facts to understanding this upset:
* In watching game film, he noticed that Navy was tipping off its defense, especially when they were rushing the passer. Levy's staff installed a series of audible plays for the first time the week before the game to take advantage of this.
* He also noted the tendency of Navy's defensive backs to cheat towards the line of scrimmage when they felt teams were going to run the ball. Again, audibles were put in to counter that strategy.
* Finally, Levy believed that Navy was vulnerable to having a punt blocked.
All three figured in the final result.
For most of the first three quarters, this game looked like the usual Navy rout of an undermanned W&M. On the very first play of the game, W&M was called for holding in its end zone on the kickoff, giving Navy a safety and a 2-0 lead before a play from scrimmage had even been run.  Things got worse quickly as the Middies followed with a long touchdown march, then scored again on a 67-yard interception early in the third quarter to make it 16-0.
But with Navy having driven to the W&M 13-yard line, the game changed. A gang tackle forced a Navy fumble, W&M's Buck Buchanon recovered. Darragh suddenly took command, leading the squad on an 87-yard march that culminated with his one-yard touchdown plunge. The two-point conversion failed and the game moved into the fourth quarter with Navy leading, 16-6. The crowd hardly seemed worried.
The Tribe defense, led by linebacker Adin Brown (who had blocked a Navy punt earlier, one of Levy's three keys), and defensive backs Jim Barton and Eddie Herring and defensive end Bob Gadkowski stuffed Navy on three consecutive plays and forced a punt.
As the fourth-quarter clock raced on, Morton's deliberate rushes moved the ball some 40 yards. Then Darragh fired three straight passes to Cavanaugh, the last 10 yards for a leaping touchdown. When Zychowski caught a 2-point conversion pass, it was suddenly 16-14 with 5:27 remaining in the game.
The hush in the stadium from the Navy midshipmen and thousands of returning Academy alums was palpable. People sensed something remarkable was occurring.
Navy took the kickoff and tried three plays that gained nothing. W&M gained great field position near midfield on a nifty 20-yard punt return by Chip Young. The crowd of 20,000 was now, for the first time, roaring as the Indians took over on offense.
Then came the play of the game: Darragh, who had run around left end on the previous play, took off again on what appeared to be the same play. But Darragh had noted that Navy's backs were cheating up as he stood under the center, so he called one of Levy's special audible plays. On his second dash left, he suddenly stopped and lofted a long pass to the smallest man on the field, Steve Slotnick, who had gained three steps on his defender. Slotnick made a fingertip catch, arms extended, and raced into the end zone for a 51-yard TD as Indian fans went berserk.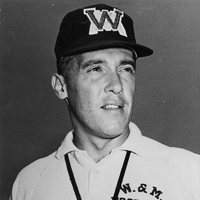 A 2-point conversion failed, but it was now W&M, stunningly, ahead 20-14. The W&M kickoff was a high "pooch" kick that bounced crazily around the Navy 25-yard line, where W&M's Herring fell on the free ball with about three minutes left to play.
Navy was stunned.
Disdaining running out the clock, Darragh daringly took to the air again and completed two passes to the Navy two-yard line — where Morton finished the drive by bulldozing into the end zone behind a charged up Indian line. This amazing turn of events put the score at 27-16. 
W&M had scored 27 points in 15 minutes, 21 in the final 5:27, to turn a 16-0 deficit into a 27-16 victory. National coverage and film of the game blanketed the evening news.
More than 3,000 people, led by Dr. Paschall and virtually the entire student body, welcomed the team's buses back that night as the Wren bells chimed for hours and students paraded up and down Richmond Road.
Forty-five years later, and after coaching four Buffalo Super Bowl teams and entering the NFL Hall of Fame, Levy still remembers this game as "one of his greatest moments, unforgettable, by a bunch of overachievers who showed an unbeatable will to win. If I'd never won another game this would have sufficed.  Our players were magnificent."
That 1967 team went on to a 5-4-1 season, but it was this Navy game, this sensational comeback, that forever owns a place of greatness in the William & Mary football pantheon.