10 professors featured in Princeton Review's "Best 300 Professors"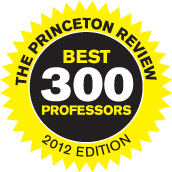 A new guidebook released today recognizes the College of William & Mary for having 10 of the country's best undergraduate teachers.
The affirmation of quality teaching comes from The Princeton Review and its new book, "The Best 300 Professors." For the project, The Princeton Review teamed up with RateMyProfessors.com – the highest-trafficked college professor ratings site in the U.S.— to develop a roster of top teachers that features professors in more than 60 academic fields and from 122 colleges and universities. According to the press release, professors were chosen based on qualitative and quantitative data from survey findings and ratings collected by both The Princeton Review and RateMyProfessors.com.
William & Mary professors featured in the new Princeton Review Book, "The Best 300 Professors," are: Elizabeth Barnes (English); Philip Daileader (History); David Dessler (Government); Melvin Patrick Ely (History); Fredrick P. Frieden (Psychology); William Hutton (Classics); Rowan Lockwood (Geology); Beverly Sher (Biology); Peter M. Vishton (Psychology); and Jim Whittenburg (History).
"The hallmark of a William & Mary education is the individualized experience our faculty provide our students," said Provost Michael R. Halleran. "It is no secret our professors are among the best in the country and many more William & Mary teachers and scholars could be included on this list."
The faculty at William & Mary continue to set the benchmark for excellence in teaching within the Academy. Just last fall, the U.S. News & World Report ranked William & Mary eighth in the magazine's list of the "Best College's for Undergraduate Teaching."
Other Virginia schools with professors featured in the book include Mary Washington, James Madison University, Sweet Briar College and the University of Richmond.
A complete list of the professors in the book is accessible at http://www.princetonreview.com/best-professors.aspx.