Writer in residence Poteat, his students, share a dream
Wlliam & Mary's writer in residence for 2011-12, poet Joshua Poteat, considers his position at the College to be a "gift."
"Being a writer-in-residence is a dream for innumerable writers, including this one, especially here at W&M," said Poteat, who will read from his highly acclaimed works on Thursday, Sept. 8, at 7 p.m. at the Muscarelle Museum of Art.
"Having the time (and office) to write as well as talk shop with some of the sharpest students I've met at one of the most prestigious universities in the country is a gift for me. I'm honored to be here."
Poteat continues a Department of English tradition that dates back to the program's start in 1973. He will teach one course in both the fall and spring semesters, and will seek inspiration from his own experience as a graduate student at Virginia Commonwealth University.
"My mentor in graduate school, Larry Levis, died during my second year," he said. "He was well respected in his field, and had many poet friends. Two of those friends felt sorry for the students who had lost their teacher, and filled in for him in my final year as writers in residence/visiting writers.
"Gerald Stern and Ellen Bryant Voigt were the fill-ins -- and they were simply amazing. If only I could summon an ounce of what they gave (and still give) to their students…."
Poteat's work and awards fill nearly three pages of his resume and have drawn rave reviews from every quarter. His first manuscript, "Ornithologies," won the 2004 Anhinga Poetry Prize. He was awarded the Poetry Society of America's 2004 National Chapbook Award for "Meditations."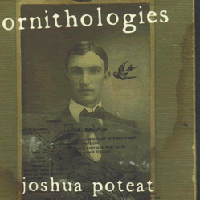 "This poet knows that ruin is no excuse for despair, and even as he combs the rubble for tokens of consolation, the presence among us of these clear-eyed, large-hearted poems may serve a similarly hopeful purpose for readers of contemporary American poetry," wrote Campbell McGrath, judge for the 2004 Anhinga Press poetry prize.
From Melanie Drane, book editor for ForeWord Magazine: "Poteat's poems are suffused with the cognizance that 'nothing in this world is ours.' Each image teeters on an unsustainable, exquisite edge . . . Yet Poteat's insistent power of witness itself constitutes a form of solace. In each meticulously observed moment, there's the assertion of a life well loved. The morbid is tasted on the tongue in his poems, but Poteat transforms loss into a lush homage to human experience in all its complexity."
From Mathias Svalina, book reviewer, University of Nebraska: "Have I mentioned my absolute love of Joshua Poteat's poetry?"
A Richmond resident, Poteat has also won recognition from the Vermont Studio Center, the Millay Colony, the Virginia Commission for the Arts, Virginia Center for Creative Arts, Eastern Frontier Educational Foundation/Norton Island, and many others.
"He uses a lot of resource material in his poetry," said W&M English Professor and former writer in residence Nancy Schoenberger, director of the Creative Writing Program whose committee identifies and selects the writers in residence. "I wouldn't call his poems 'learned,' because that's the kiss of death, but the poems are very deeply grounded in the world. He can talk [to students] about researching [their] interests as a background for the kind of work [they're] going to do.
"He's also very much involved in the world of readings and events and grants and organizations. For the young writer who wants to go out there and make a reputation as a poet, you need to know about all of that. I think he will be very good at making our students aware of what's out there for a poet."
Poteat graduated from the University if North Carolina-Wilmington in 1993 with a B.S. in English. Four years later, he earned a Master's in Fine Arts from Virginia Commonwealth University. Included among the many programs and schools where he has instructed since 1997 are Virginia Commonwealth, Virginia Union University, the University of Virginia's Young Writer's workshop, the University of North Carolina-Greensboro, the Gilman School Visiting Poets Series in Baltimore, the University of Richmond's Governor's School.
The opportunity to learn from Poteat is the grand prize for students who emerged from fierce competition to earn a seat in his class. Because the courses are advanced level, students must show that they have completed preliminary and/or 300-level coursework in either poetry or fiction. All submit a portfolio.
"We have a large body of students who are interested in creative writing," said Department of English Chair Susan Donaldson. "This gives writers the opportunity to teach students who want to be introduced to the life of a writer, as opposed to academics, who may write fiction or poetry on their own."
The program also offers a key element of "de-mystification," as Professor of English Henry Hart calls it.
"The flesh-and-blood professor who teaches them week after week has accomplished that seemingly unattainable goal of 'making it' as a writer," said Hart. "I remember when I was younger, I tended to think of writers as abstract entities -- they were hallowed names on books, and many of the names referred to writers who had died a long time ago. In college, when I met famous writers and realized they were human beings like the rest of us, I felt less overwhelmed and less daunted by the mystique that writers had.
"Basically, I thought: If she or he made it as a writer, maybe I can make it as a writer, too.  I think that 'de-mystifying' process is important, and our writers-in-residence contribute to it."