Women's basketball team finding redemption on the court
Last season turned out to be a remarkable one for the William & Mary women's basketball team – for all of the wrong reasons.

Decimated by injuries and saddled with a head-scratching rash of bad luck, a team that was thought to be good enough to compete for the Colonial Athletic Association championship instead finished with a 3-26 record.

"We knew what it was," coach Debbie Taylor recalled. "We were playing with seven or eight people, and we were doing our best to compete every night.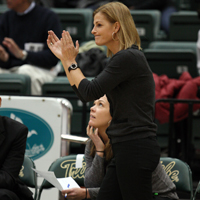 "Every game we played, the other coach would walk up to me and say, 'Oh my God, you're the best 3-win team in the country,' and I'd be like, 'That's really not what I want to hear.' We were still a decent team; we just couldn't win.  It was crazy."

Included in the craziness were three overtime losses, one double-overtime loss. Two losses came when opponents made shots at the buzzer. They closed the regular season by losing at Old Dominion by five, at Virginia Commonwealth by six, and at home to Hofstra by seven.

"Last year we were too often thinking, 'let's not lose,' and that's a mentality you really can't have," said senior point guard Katherine DeHenzel. "Now we step on the court and we're out there to win it. It doesn't matter who we're playing.  . . We engrained it in our minds that we never wanted to lose like that again."

Seven games into this season, there are plenty of reasons to hope that 2011-12 will be remarkable – and memorable -- for all of the right reasons. At 4-3, the Tribe enters Thursday afternoon's home game against North Carolina A&T (4:30 p.m.) having already exceeded last year's win total – including a 19-point rout of Virginia Tech in Blacksburg. The roster is full at 13 players, seven of whom have played in every game. All 13 players have seen action in at least two contests. All five starters score in double figures and two more average nearly six points a game.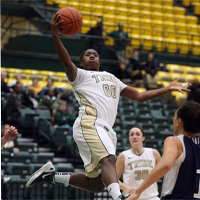 "We have the talent to win the league," DeHenzel said. "We just have to put our minds to it. Depth is a huge thing with us this year because we can put any one of 10 players on the floor and produce the same results. It's a blessing."

This year's second-leading scorer, redshirt junior Janine Aldridge, played just eight games last year before suffering a season-ending injury. Defensive specialist Chanel Murchison is also back after recovering from a torn anterior cruciate ligament.

"Two gigantic pieces," Taylor calls them.

Four freshmen have added depth and attitude.

"They're just fantastic," Taylor said, "and it's amazing how the dynamic of the team changes. These freshmen are mature, they're just fun, and they all have something to contribute."

After losing a heartbreaker to Navy, the Tribe ran away from Virginia Tech then faced an unexpected uphill battle at Norfolk State. It took two overtimes, and the Tribe came from four down in each extra session, but W&M came out on top.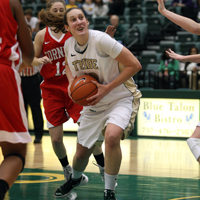 DeHenzel admits that the trials of a year ago taught her team lessons that enabled them to prevail against the Spartans.

"We have a mental toughness after last year," she said.

Taylor agrees, adding she and her staff didn't have to change anything from last season, that as the combination of older players and freshmen meshed this preseason "you could see they were a different team."

"They have something to prove," Taylor said. "They've been through something really hard, so they're going to find a way to win now. They're just excited to play with a whole team and to show people what they can do, kind of redeem themselves."
Note: The women's game will be followed at 7 p.m. by a men's game against Wesley College . . .The Marine Toys for Tots Foundation will be accepting toys to be distributed by the U.S. Marine Corps Reserves. Fans are asked to bring new, unwrapped toys to Kaplan Arena. In return, you will receive free admission to both games of the doubleheader.