W&M tops all public colleges in report on international education
The College of William and Mary has a greater percentage of undergraduates who participate in study-abroad programs than any other public institution offering doctoral degrees in the United States, according to a recent study by the Institute of International Education.
The IIE's Open Doors 2011 Report on International Educational Exchange ranks William & Mary first at 43.9 percent, followed by Miami of Ohio (40.7 percent), Georgia Institute of Technology (39.2 percent) and the University of Delaware (38.1 percent).
The College also ranks above all other Virginia institutions - public and private – listed in the report.
"William & Mary's number one ranking in the 2011 Open Doors Report shows the remarkably deep engagement of our student body in global affairs," said Stephen Hanson, vice provost of international affairs at the College. "All of us at the Reves Center are extremely proud to be at the top rank among public institutions in this crucial sphere of higher education."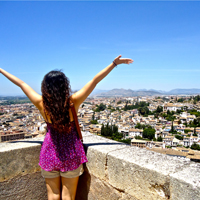 William & Mary offers undergraduates many study-abroad opportunities through the Reves Center for International Studies. The center provides students information, support, and guidance on William & Mary-specific study abroad opportunities, exchanges with international universities, and programs sponsored by external providers. Interested students can also attend study abroad workshops and talk with peer advisors through the center.
More than 40 percent of W&M students study abroad at some time in their undergraduate careers, last year in 41 countries. The Reves Center provides more than $150,000 in study abroad scholarships each year.
The Open Doors report is published annually by the IIE with funding from the U.S. Department of State's Bureau of Educational and Cultural Affairs. The numbers contained in the 2011 report reflect study abroad conducted in the 2009-10 academic year.
According to an IIE press release, study abroad by U.S. college students was on the rise in 2010/11 for the second year, after leveling off during the economic uncertainty that began in 2007. IIE's Open Doors Report on International Educational Exchange, supported by the U.S. Department of State's Bureau of Educational and Cultural affairs, reports that 270,604 U.S. students studied abroad for credit during the academic year 2009/10, an increase of 4 percent from the previous year. The new IIE/Forum online survey conducted in October 2011 indicates that this upward trend is continuing.
Allan E. Goodman, President and CEO of the Institute of International Education, said, "We applaud the measures that campus leaders have taken to increase study abroad participation, and we are encouraged to hear that campuses are seeing their study abroad numbers rise.
"However, with a total higher education enrollment of over 20 million, there remains a huge unmet need to expand American students' international experience, and an even greater challenge to ensure that access to study abroad is available to all, including students of diverse backgrounds, low incomes and underrepresented fields of study."
Study abroad to China continues to increase in popularity, and India is gaining popularity as a study abroad choice. The latest Open Doors reported almost 14,000 U.S. students received credit for study in China in 2009-10; China remains the fifth most popular destination for U.S. students abroad, the only one of the top five host countries outside of Western Europe.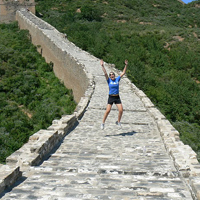 In this Fall 2011 IIE/Forum survey, 48 percent of respondents reported increases in study abroad to China in 2010-11, and 38 percent of campuses responding saw an increase in students going to India to study. The latest Open Doors data shows a 44-percent increase in study abroad to India, with almost 4,000 students receiving academic credit for study in India in 2009-10.
In 2012, W&M will offer summer study abroad programs in Beijing, China and Goa, India, along with 11 other options.
Survey respondents also indicated that they had seen increases this past academic year in the numbers of their students going to Western Europe (48 percent) and to Sub-Saharan Africa (36 percent) as well as to Turkey (32 percent).
The report, which is supported by a grant from the Bureau of Educational and Cultural Affairs at the U.S. Department of State, is based on a survey of approximately 3,000 accredited U.S. institutions. It provides information on U.S. students studying abroad for academic credit at their home colleges or universities, and international students and scholars studying or teaching at higher education institutions in the United States.