W&M student shares experiences in Egypt
William & Mary junior John Pence signed up to study abroad in Egypt this semester because he was "ready for the next challenge."

"This was a challenge. I definitely learned a lot about myself, but it wasn't the challenge I was expecting," he said.

Pence was one of hundreds of Americans who were evacuated after widespread protests both for and against Egyptian President Hosni Mubarak erupted across the country in January.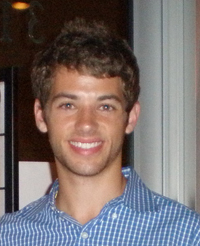 Pence began that month ready to spend a semester at American University in Cairo, studying Arabic and Middle Eastern politics. He was in the country for about two weeks, staying in a dorm in the Nile island area of Zamalek, before the protests began. The third-party study abroad program at AUC is not sponsored by William & Mary, but Pence was in touch with staff at the College's Reves Center for International Studies throughout his time in Egypt.

"I loved it," he said. "I met a lot of great people from all over the world, Egyptian students as well, and up until the protests began on the 25th of January, it was very peaceful."

The night before the protests, Pence received text messages from some of his Egyptian classmates, telling him that he may want to stay in the next day because of planned protests. Monday, Jan. 25, thousands of Egyptians took to the streets, demanding that Mubarak step down. Over the next few days, Egyptian police clashed with the protesters and Egyptian troops and tanks were brought in to act as peacekeepers.

Throughout this time, Pence stayed in the Zamalek area, abiding by the curfew and staying informed about the events unfolding around him through satellite television and through his Egyptian classmates who lived in or around Cairo.

"I tried to stay away from everything because of my safety and because I'm not Egyptian. It wasn't my fight," he said. "I did feel for the people, and I still do."

On Thursday, Pence went out to eat and was surprised to see that protests had reached the streets of Zamalek. The next morning, he knew the situation was really deteriorating.

"When I woke up and the phones were out and the internet was out, that's when I was like, okay this is really serious," he said. "This is the government really trying to show their iron fist."

On Saturday, Pence watched as F-15s and military helicopters flew low over the city, and he heard that more tanks were being brought in.

"That's when I knew this semester is not going to happen. Now it's really about getting out."

On Sunday evening, American University told students that the State Department was offering charter planes for American citizens who want to leave the country. Pence got on a bus with other students the next day to be transported to a hangar near the international airport in Cairo.

That bus ride was the first time that Pence had left Zamalek since the protests began – and the first time he saw the tanks on the streets and the burned buildings. At the airport, Pence joined hundreds of others in a long line for one of the charter flights.

"It was the line to freedom, basically," he said. "Everybody was anxious to get out."

After waiting in line for seven hours and leaving a pile of his belongings behind due to a one-bag restriction, Pence boarded a plane that was bound for Turkey. As he left Egypt, his thoughts were with the Egyptian people.

"Leaving, I felt bad for all the people that are out of a job now that we don't have school anymore there," he said. "You could see it on the faces of the Egyptian people as you were going to the airport. They would all say, 'Oh, you're going to be back, right? We'll see you soon,' and it was just sad."

After a brief stay in Istanbul, which Pence used to see sites like the Blue Mosque, the William & Mary student finally left for the United States on Feb. 2.

"It was a long flight – a couple of flights – but I was glad to get home," Pence said.

Now back in his home state of Indiana, Pence, a Spanish major, is working with the Reves Center to continue his semester in Argentina via the La Plata program.

Although Pence didn't get to study in Egypt the way he thought he would this semester, he still learned quite a bit from his experience there, including "how fortunate we are in this country to have a somewhat stable democracy and also how dangerous the world is."

Pence said it was really interesting to see the events unfold from both an insider and an outsider perspective. For instance, although the violent protests made the news, Egyptians were also trying to come up with peaceful and proactive solutions to some of the country's problems.

"I know a lot of students who went out when the protests started and were encouraging people to clean the streets up and being proactive," said Pence. "If (people are complaining) about how dirty the streets are in Cairo, let's do something about it. But that message gets swallowed up by people who decide to cause chaos and havoc and fear."

Via Facebook and other means, Pence has kept in touch with many of the students he met in Egypt.

"We only had a week and a half or two weeks with each other, but you go through something like that, you get to know people pretty well," he said.

And as he prepares to leave for yet another country, Pence continues to monitor the situation in Egypt.

"I hope that there's a peaceful resolution in sight soon," he said.