W&M seniors push for record-breaking class gift participation
As graduation draws closer, senior class leaders want to leave a mark on William & Mary, in the form of a generous Senior Class Gift.  
Brian Focarino '11 wants his classmates to know that every gift counts and donations should be considered an "investment" in their degrees.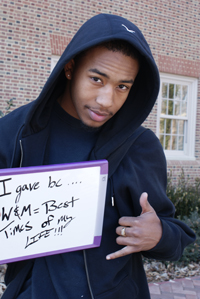 That's because donations to the College help it maintain top-notch facilities and attract prestigious faculty, which raises its profile among employers. Focarino, who, along with Michael Tsidulko '11 and Wesley Ng '11, co-chairs the Senior Class Gift Committee, said they're hoping for an 88 percent participation rate.
"Our goal is pretty ambitious," Focarino said. The 88 percent figure is symbolic, he said, and represents about 1,100 seniors. In the face of declining state financial support for the College, it also represents the percentage of the College's operating budget that will likely have to be funded through private support next year.
The Senior Class Gift Committee is made up of 24 seniors, chosen through an application process, who represent a cross-section of the class, Focarino said. Each committee member is assigned a certain number of seniors to personally reach out to for donations to the gift.
"It feels much less top-down than it has in the past," Focarino said. The committee is using "ambient marketing" techniques to get the word out about the gift and has released videos on YouTube and Vimeo.  
"A lot more underclassmen know what the gift is," Focarino said. The goal of the gift isn't simply to raise money now, but to build a culture of philanthropy to the College among graduates.
Seniors contributing to the Senior Class Gift were eligible for special perks at the Roots' Charter Day concert, in addition to Senior Mug Nights at the Green Leafe and Wine & Cheeses.
Focarino was pleased at the relatively high number of leadership level gifts so far, but stressed that every gift counts, even down to the minimum donation.
"That's like one trip to Wawa," he said of the $10 minimum. "Skip that one trip to Wawa and make a pledge to the class gift."
Students can designate what area of the College they want to support, or give to the Fund for William & Mary, which supports a variety of College needs annually. To donate to the Senior Class Gift, visit www.wm.edu/2011.