W&M remembers faculty icon Jim Livingston
In everything he did, Jim Livingston stood out.
His former colleagues in William & Mary's Department of Religious Studies heaped praise on him for having come to the College in 1968 to found the department and selflessly guide it to prominence.
They marveled at the reputation he forged as an international expert in 19th century Christianity, as evidenced by his authorship of 11 books and more than 100 articles. His fellow scholars literally referred to him as "Mr. 19th century."
His former colleagues from other departments extolled the intellectual brilliance he displayed as the College's first dean of undergraduate studies, his gentle sense of humor, his enthusiasm for athletic endeavor – and his dedication to helping find equal rights and justice for all people.
Livingston, 81, died in Williamsburg on Sunday, six days after suffering a stroke.
"The William & Mary community mourns Jim Livingston's death," said President Taylor Reveley. "As an author and scholar, Professor Livingston had few peers. As a teacher, mentor and devoted member of the College community, Jim set the standard. He never shied away from the difficult assignment and was one of our most respected faculty members and campus leaders. Jim exemplified what we mean when we say William & Mary's faculty combines the best of teaching, scholarship and service."
Upon his retirement in 1998, the Board of Visitors proclaimed that Livingston "epitomized the best of academic life."

As Provost Michael C. Halleran said Monday in announcing Livingston's passing to the College community, "He was quite simply a pillar on which the modern William & Mary was built."

A memorial service will be held at 10 a.m. on Aug. 6, at Bruton Parish Church in Williamsburg. It will be followed by a reception at the Parish House. Attendees may park on Duke of Gloucester Street.

In lieu of flowers, the family has asked that memorial scholarship contributions be sent to Kenyon College (College Relations, Gambier, OH, 43022) or to the Union Theological Seminary (Development Office, 3041 Broadway, New York, NY, 10027).

"He was one of the most creative thinkers about liberal-arts education I've ever been around," said Thomas Finn, emeritus chancellor professor of religion, who followed Livingston as chairman of religious studies and as dean of the undergraduate program. "I'm quite certain that he became dean of undergraduate studies because he understood the importance of liberal arts. He was an extremely important figure when William & Mary got into the top liberal-arts colleges in the country."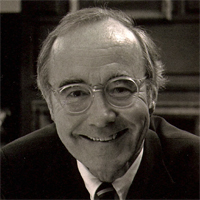 Terry Meyers, chancellor professor of English and a colleague of Livingston's for 40 years, described him as "a constant stimulus to have around."

"I always looked up to him," Meyers said. "He wrote several books on Victorian religious thought; my specialty is Victorian poetry. We overlapped with Matthew Arnold (often called the third great Victorian poet)."

Born in Grand Rapids, Mich., Livingston came to William & Mary from Southern Methodist University in Texas in 1968 in order to found what was then called the Department of Religion. Until his retirement in 1998, he also chaired and served on many important committees at the College, including the President's Advisory Council, the Admissions Policy Committee, the Committee on Retention, Promotion, and Tenure, and the Rhodes Scholarship Committee.

But even in retirement, Livingston played an active role in the life of the College. In 2007, he co-chaired the William & Mary Committee on Religion at a Public University. Among other things, the committee helped end months of controversy on campus by recommending to the administration a compromise on the location of the cross inside the College's Wren Chapel.

Starting in 1968, Livingston worked tirelessly to develop the department into one of the most respected undergraduate programs in religious studies in the country. Today, it features a dozen faculty members and offers courses in Introductory Studies in Religion, Biblical Studies, Studies in Asian Religions, Judaic Studies, Studies in Islam, Studies in Religious Ethics, Studies in Western History and Thought, and Studies in American Religion.

According to Finn, Livingston expanded the religious studies curriculum to include Asian religions, which served as a springboard for the College's involvement in international education.

Livingston also became an acclaimed scholar, the author of 11 books, including "Modern Christian Thought," "Church-State Relations in Other Countries," "Matthew Arnold and Christianity," and "Anatomy of the Sacred."

"We laughed about this all the time: Jim couldn't use a computer," said Tammy Cooper, long-time business manager for religious studies and a Livingston hire. "I think 'Anatomy of the Sacred' went through something like five editions. He'd come in with a long, yellow, lined legal pad on which all of his changes were written in pencil. He'd hand them to me, I'd type them up, and they'd go to the publisher. Just like that. The changes were perfect.

"The man was brilliant, his mind so clear."

Among his many career highlights, one that family members prize is the scholarship he won from the Woodrow Wilson International Center for Scholars. He was the first member of the College faculty so honored.

He also earned fellowships from the American Council of Learned Societies and the National Endowment for the Humanities. The College awarded him its Thomas Jefferson Award for significant service through personal activities, influence, and leadership in 1994.

Livingston graduated with a degree in history from Kenyon College in 1952 then enrolled in a graduate history program at Columbia. He left there to attend the Union Theological Seminary, which at the time was viewed as the premier protestant theological seminary in the United States.

Studying under renowned theologians Paul Tillich, Paul Ricoeur and Reinhold Niebuhr, Livingston graduated from UTS in 1956 and was ordained a Presbyterian minister. He served on the ministerial staff at the adjacent Riverside Church before returning to Columbia to earn a Ph.D. in religious studies in 1965.

In the early 1960s, Livingston traveled to Georgia to participate in civil-rights activities. During the trip, he was arrested, and spent several days in jail.

"He was very passionate about that cause," said his daughter, Susannah.

Livingston and Michael Mott, twice a writer-in-residence at the College and a close friend, spoke about the experience from a unique perspective.

"I asked him whether it made a difference being in jail as a Christian," Mott recalled. "He said it didn't at the time, but that later, upon reflection, it did.

"We often talked about when to obey (the law) and when, tactfully, not to obey."

Spirited conversation on a variety of topics was a hallmark of any relationship with Livingston. He was a sports buff who loved to discuss games. Terry Meyers most definitely is not.

Thus, many of their conversations –often during editions of that half-century-plus William & Mary institution known as the Wednesday Lunch Group -- were political.

"These could get quite vocal," Meyers said. "Jim never raised his voice, but I do remember one time being cautioned at Barrett's to keep it down politically. Apparently, we were driving away some of the other patrons."

According to close friend David L. Holmes, a fellow professor emeritus of religion, Livingston was a teacher-scholar of the highest academic standards.

"He insisted on rigor in his department's courses, and he pitched his classes at a high level," Holmes recalled.

In his later years, Holmes said, Livingston became an Episcopalian. After his retirement, he became an active member at Bruton Parish Church.

"Long before he retired, he was one of the most respected faculty members on William & Mary's campus," Holmes said. "He was known for personal integrity, careful decisions, and sound judgment."