W&M jazz vocalist to present tribute to Billie Holiday
William & Mary voice teacher and jazz vocalist
Stephanie Nakasian
will present a tribute to jazz great Billie Holiday in the next event of the
Department of Music's
Ewell Concert Series.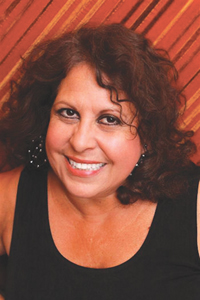 The event, titled "Billie Remembered," will held Jan. 29 at 8 p.m. in the Williamsburg Library Theatre. Nakasian will be joined by the Hod O'Brien Trio, bassist Jason Jenkins and drummer Billy Williams as well as Robert Ransom, lecturer of jazz trumpet at William & Mary, and the University of Virginia jazz saxophonist Jeff Decker. The event, which is co-sponsored by the Williamsburg Regional Library's Dewey Decibel Series, is free. No tickets are required.
Nakasian, who was called "one of the most important jazz singers in the world today" by the New Biographical Encyclopedia of Jazz, has taught at William & Mary for over 10 years. She started primarily as a jazz voice teacher but later expanded into non-classical vocal instruction. Nakasian teaches private voice lessons and has lectured in jazz history classes. She has also taught jazz improvisation workshops at the College and worked with the jazz band. Nakasian has also performed locally numerous times, both at the library and with Harris Simon at Aroma's coffee shop. She plans on performing there again twice on Tuesdays in March and April.
Nakasian said it is important that her students get a chance to see live jazz.
"It's one thing to talk about this stuff; it's another thing for them to actually see it," she said. "It's very important that they see live performance, especially in jazz."
But Nakasian's talent has not been showcased only in the Williamsburg area. She also teaches at the University of Virginia, and she has appeared at the Kool Jazz Festival in New York City, the Telluride Jazz Celebration in Colorado and the Women in Jazz Festival at the Lincoln Center in New York City. She has released a dozen CDs and received praise from critics at the Washington Post and New York Times.
One of those CDs, a tribute to 20 different singers called "Thrush Hour," included a song by Billie Holiday. It drew the attention of a record company, which reached out to Nakasian and asked her to do a Billie Holiday tribute CD. At first, Nakasian hesitated.
"(Holiday) really was not one that I was that close to because her life experience and the sound of her voice were relatively different than mine," said Nakasian, adding she was more of an Ella Fitzgerald-style singer.
"I said I would try it and see if I could relate to it, and it really clicked for me," she said.
The CD, "Billie Remembered," received praise from the Village Voice and garnered Nakasian an interview on NPR's "Fresh Air" program.
During Saturday's concert, Nakasian will begin with some of Holiday's "lively and peppy" songs from the 1930s before getting into songs "full of pathos," like "God bless the child" and "Lover Man," that she did later in her career.
But the show won't just be singing. Nakasian will also be incorporating photos and film and talking about some of the popular misconceptions about Holiday.
"I think it's important to get a perspective on it because she was really amazing," said Nakasian. "She was the greatest jazz singer who ever lived."
Other events coming up in the Ewell Concert Series this year include: the contemporary ensemble Relache, flutist Eugenia Zukerman with pianist Milana Strezeva and Eymen Gurtan and ensemble in a program of Sufi and classical music of Istanbul. For more information, visit
http://www.wm.edu/as/music/performances/ewellconcertseries/index.php
.