W&M alums present their original work at the Capital Fringe Festival
Working hand-in-hand with College faculty, two groups of students and alumni from William & Mary will premiere their artistic talents on stage at the nation's second largest Fringe Festival.  The two plays, Shrewing of the Tamed and Every Night I Die, are both written by alumnae and will run throughout the month of July at the 2011 Capital Fringe Festival in Washington D.C.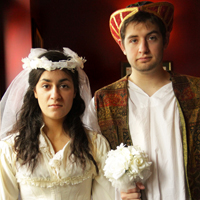 Francesca Chilcote '11, who received her B.A. in theater with a concentration in acting, along with Laurie Wolf, associate professor and director of William & Mary Theatre, created what they describe as a feminist adaptation of Shakespeare's Taming of the Shrew.  Chilcote, who has been working on the play since September of 2010, also has the starring role as Kate in her take of the play called Shrewing of the Tamed, which premieres on July 13.
"What makes this show special is it was created by just a student and a teacher, and everyone in the show are my closest friends." said Chilcote.  "I edited these roles with them in mind.  If they weren't in my head in the beginning, they were in my head by the end of the process."
Everyone involved in Shrewing of the Tamed is a Tribe alum.  "Everyone down to the guy doing the lighting went to William & Mary," she said.
The message Chilcote wants to send in her play is specific.  Rather than changing the way the audience thinks about the original Taming of the Shrew, Chilcote wants to change the way people think about women and men in general after seeing her adaptation.
"I am looking forward to giving people a different perspective on Taming of the Shrew, but hopefully there will be some bleed over into real life as well," said Chilcote.
Amanda Andrei '10, who graduated with a degree in anthropology, wrote the other W&M affiliated play also showcased at the Capital Fringe Festival.  Andrei is of Filipino heritage and also participated in a six-month study abroad in the Philippines, which in turn gave her the inspiration to write Every Night I Die.
"When I first wrote this show, I was concerned that the Philippine folklore and culture might render the show inaccessible to audience members," she said.  "However, I found out that that is what makes the show unique and special. It turns an otherwise universal story of a broken family and broken souls into an enchanted and symbolic tale. The Philippine culture and land is an integral part of the story, one I hope that enriches people's imaginations and brings new energy and life to the stage."
The cast and crew as well as volunteers for Every Night I Die span an age range from undergraduates, to recent alumni, and include professional performers from the DC-Baltimore area and New York.  The shows director, Associate Professor of Theatre Francis Tanglao-Aguas, has been commuting almost daily to D.C. as they rehearse for their premier performance on July 9.
"I am thrilled with this project because it exhibits a pinnacle experience when W&M students collaborate with faculty and an outside territory such as the Philippines," said Tanglao-Aguas.
The Capital Fringe Festival will be going on from July 7-24.  Tickets can be purchased at www.capfringe.org.