W&M alum interns at White House
William & Mary alumnus Frank "Beau" Wright '10 was selected to intern at the White House this fall. He was one of 10 Virginians and more than 140 people nationwide to be selected.
Wright works at the Office of Intergovernmental Affairs, which, he explained, "serves as a door to the White House for state, local, and tribal officials."
"As an intern, my job is to ensure that staff in my office has the resources they need to be effective, whether that's by compiling data into a spreadsheet, helping to plan and staff an event, or taking notes during a meeting," Wright said.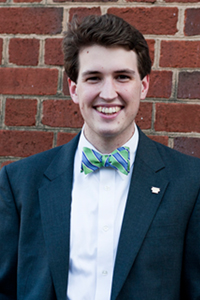 The internship started in early September and will finish mid-December.
Wright's passion for government began early on. As a high school student, he participated in programs by the University of Virginia's Sorenson Institute for Political Leadership.
"I've always loved government, but I think that while the Sorensen Institute escalated my interest, it more importantly changed how I thought of politics," he said. "Instead of polarity, of us versus them, of rancor and spite, politics – as Sorensen teaches it – should and can be the noble business of people with different backgrounds and ideology coming together to work for the public good. That's why public service is important to me."
Wright feels that this idea of "inclusiveness" resonates in the current administration.
"Every American carries multiple labels – age, race, gender, profession, ideology, religion, etc. – all of which are represented here in the White House through various offices," he explained. "I am continually amazed at how hard the staff here works to listen to and include the American people in the administration's activities and agenda."
Wright, who was a
government
and
history
double major, cites Government Department Chair and Professor John McGlennon as a strong influence.
"Professor McGlennon sets the standard, I think, of what a community leader should be: someone who is wholly dedicated to the public good," Wright said. "In addition to his daily work as a serious scholar and educator, he serves on the James City County Board of Supervisors, and has given years of countless nights and weekends to make the community a better place."
Wright was also involved in the community while the College. He was an active member of Young Democrats and served as the Student Assembly's undersecretary for the Virginia General Assembly internship program in Richmond.
"I think that this [White House internship] will provide him with some great opportunities not only in terms of the contacts he'll make in the White House but also in terms of the recognition that being selected for such a prestigious program brings," McGlennon said. "So, the fact that he has been able to participate in this program has been a great help for him, and he's already paid it back in the sense of trying to provide assistance and guidance to other William & Mary students interested in applying for the program."
Wright was encouraged to apply for the internship by Carrie Adams '09, who interned at the White House last spring. Other William & Mary students who participated in the White House internship program include William Sealy '09 and Rachel Wallace '12, who interned last fall, as well as Harrison Roday '13, who interned during the summer of 2010.
"I think that once William & Mary students are in a program, it brings very positive recognition, and employers or internship sponsors are often very anxious to recruit more of our students," McGlennon said. "I encourage our students to take advantage of these opportunities, not only for themselves, but for the opportunities they open up for other people as well."