'TWAMPtannica' goes online
People being introduced for the first time with the student culture at William & Mary probably aren't too familiar with the term "TWAMP." After all, it was only a few years ago that the word TWAMP -- short for "Typical William And Mary Person" -- even came into common usage.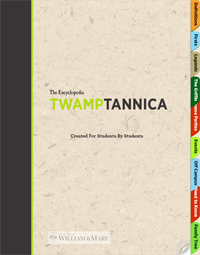 But through the efforts of former student assembly president Valerie Hopkins '09 and current seniors Brian Focarino and Brittany Fallon, the tome representing the epitome of what it means to be a student at William & Mary was written and has been distributed to the freshman class for the past few years. In January, the booklet, known as the "TWAMPtannica," was finally put
online
for use by the general public.
"Observe the TWAMP in his or her natural habitat," says the TWAMPtannica on the very first page written on how to spot a TWAMP. "You'll notice the Twamp is never alone. Yes, TWAMPs may vary, but all specimens of TWAMP exhibit Tribal tendencies."
Focarino, who along with Hopkins were the principal authors of TWAMPtannica, said that the idea of a book outlining the lesser-known experiences and factoids of William & Mary came to him the summer after his sophomore year.
"Originally, the book was going to serve as a resource for freshmen to introduce them to all the things they would eventually come to learn about William & Mary that make it special," Focarino said. "But over time, we determined that a book like TWAMPtannica would also have a lot of utility, and be fun, if shared with current students and alumni as well."
TWAMPtannica online's topics range from a list of firsts for William & Mary and a translation of common phrases used by professors (written by a professor) to a glossary on popular theme parties around campus. 
But, as Focarino says, the purpose of TWAMPtannica for students goes much deeper than the information that it provides.
"Sure, the TWAMPtannica can remind you about the purpose of that particular campus event or when it takes place, the words to the alma mater, and how to find the Twitter for Tribe Athletics, he said. "But, its main purpose is to survey a lot of shared aspects of the William & Mary experience that are familiar to students, regardless of their particular majors, social classes or interests."
Since TWAMPtannica's online debut, Fallon, who helped bring the book to fruition, said that she's received much feedback from former alumni and students.
"One '87 alumnus described himself as 'trapped in it, transfixed for way longer than he had intended,'" Fallon said. "His response, as well as that of many others, was truly and overwhelmingly positive, demonstrating that the ties binding William & Mary graduates span generations."
Both Fallon and Focarino stated the importance of TWAMPtannica as a living document that is able to "change to reflect the realities of William & Mary at the time," according to Focarino.
"TWAMPtannica depends upon an evolving content, shifting to reflect the nuances of student life," Fallon said. "As such, we fully expect changes to be made to our original publication as dialects change, traditions become more ingrained, and life in general at the College changes in our absence."
In the end, as Focarino says, TWAMPtannica online is more than just a simple publication put on the Web for the general public for humor's sake. It really is a living document, or a memoir, of the trends and whims of William & Mary students at present and for generations to come.
"The TWAMPtannica should be a fun publication that's used by students to simply remind them about all the little things, both on-campus and off, which make William & Mary special to them," Focarino said. "The TWAMPtannica has utility for so many different people in so many different ways that people should check it out and discover for themselves what it is that truly makes William & Mary the one of a kind place that it is."