Tribe football to honor military Saturday
Members of the military will be celebrated during Saturday's noon football game between William & Mary and New Hampshire at Zable Stadium.
Military Appreciation Day will include buy-one, get-one-free tickets for military members with valid military ID, special halftime events, and free camouflage rally towels for the first 1,000 fans.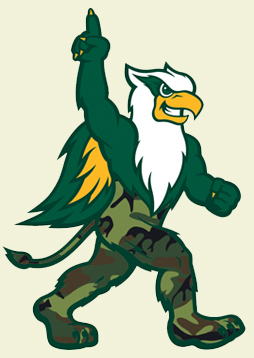 Prior to the start of the game, Army paratroopers will conduct a demonstration, landing on the field. Members of the College's Revolutionary Guard Battalion (RGB) ROTC will participate in the tunnel that Tribe football players run through before the game, with the top cadet running with a flag during the entrance.
At halftime, two National Guard soldiers will be reenlisted and approximately six ROTC cadets will be contracted by swearing an oath given by a William & Mary alumnus and Army colonel. The U.S. Army Training and Doctrine Command's marching band will also perform during halftime.
Several special guests have been invited to the game, including William & Mary alumni who now serve as military officers, the William and Mary Mason Army Officer Sponsorship Program, and The Wounded Warrior Project.
Military Appreciation Day is an annual event for Tribe football, hosted by the College's ROTC program and Tribe Athletics with the help of the Virginia National Guard and Army Reserves. The ROTC and Tribe Athletics also host a military appreciation night in the spring at one of the basketball games.
Boy and Girl Scouts will also be recognized during the game. Scout members who wear their uniforms to the game will pay only $1 for tickets and will receive a free patch.
For more information, visit TribeAthletics.com or call 757-221-3340.