Super psyched for Super Sunday
Pittsburgh Steelers fans at the College of William & Mary have a dilemma: which rock n' roll derivative best describes their team's Super Bowl XLV quest Sunday against the Green Bay Packers.
Are the Steelers and coach Mike Tomlin '95 "knock, knock, knocking on 7's door?" Or are they climbing the "Stairway to 7?"
Debating Bob Dylan versus Led Zeppelin can wait. Aaron Rogers versus Ben Roethlisberger is of far more immediate concern.
 Members of the group that posed in the Sunken Garden for a photo in support of Tomlin earlier this week are in agreement about one thing – their passion for a storied franchise seeking its seventh Super Bowl title and the College alumnus who coaches them.
Friday morning on "The Hampton Roads Show" on FOX 43 television in Portsmouth, VA, a dozen or so members of the W&M Pep Band will kick off a weekend of Tribe/Tomlin Pride with a performance. The hour-long show begins at 8 a.m., and you won't have any trouble identifying the band. They'll be wearing their green-and-gold rugby shirts.
"I am very proud that I go to the same school (as Tomlin)," David Adley '12 said. "The fact that a classy organization like the Steelers selected Tomlin to be its head coach at such a young age speaks volumes about his character and education."
Debbie Wilson, office manager in the department of philosophy, isn't much of a football fan, watching only the playoffs and the Super Bowl. But she loves the Steelers.
"It's because of Tomlin," she admitted.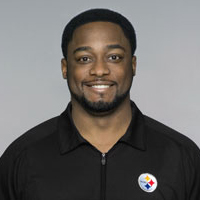 For the uninitiated, Tomlin is a Newport News native who starred at receiver for the Tribe from 1991-94, and still holds school records for yards-per-catch, both single-season and career. A Sociology major, Tomlin regaled graduates as 2008 Commencement speaker with anecdotes of all-nighters at Phi Beta Kappa Hall, hot turkey sandwiches at Paul's Deli, and his pride in the W&M Experience.
Beverly Peterson '72, MA '81, Ph.D. '94, adjunct associate professor of English, became a Steelers fan soon after moving to Uniontown, Pa., and a position at Penn State-Fayette in 1995. A friend immediately educated her in Steelers lore, and she fondly recalls watching Pittsburgh TV station KDKA's Sunday night news, where one of the top stories would be the team's injury report from that day's game.
"I love the way all sorts of divides are bridged by the love of the black and gold -- political, religious, ethnic, class," she said. "None of that matters during football season, when Steelers flags fly in every neighborhood and the maintenance man on campus has the Steelers logo cut into his hair."
Having a fellow alum coach her favorite team has been a "point of pride" for Peterson.
"Tomlin elevated the status of William & Mary in the eyes of people who live and breathe football, and who root for football schools like Penn State or Ohio State," she said. "I'm proud of William & Mary for helping to mold Mike Tomlin into the amazing coach that he is."
Mark DellaPosta's mother, Cynthia, who works at Swem library, told her son many years ago that he should go into coaching. Mark demurred, unsure that he could earn a decent living. Then along came Tomlin.
Both men attended Denbigh High. Mark also attended W&M.
"He excelled at every coaching position he was put in," said DellaPosta '00. "Mike Tomlin being the head coach of the Pittsburgh Steelers makes me proud to be a Steelers fan and makes me proud of my roots. It is also proof that my mother is the smartest woman I know."
For most of them, their Steeler roots run deep. The fever is passed down from one generation to the next. DellaPosta's grandfather was a Steelers fan. Mark watches the games each week with his father, Tony, and they often are joined by Mark's 4-year-old daughter, Emma.
"She doesn't quite know much about football, but she knows Daddy and 'Pop Pop' love the Steelers," DellaPosta said. "And she knows how to dance and cheer when the Steelers win and score touchdowns!"
Greg and Suzanne Dana arrived for the photo shoot after receiving a text message from their daughter, Lauren '03, who lives in Annapolis, MD, and follows all things W&M on Facebook.
"She told me to make sure we represented the family," Suzanne Dana said.
Melissa Johnson, office and budget manager for modern languages and literatures, has followed the team since she was 14 and her boyfriend-now-husband Scott watched the games together. A trip to Pittsburgh's Heinz Field in 2005 intensified her allegiance.
Scott once braved sub-zero temperatures to drive from Williamsburg to Pittsburgh – and back the same day – to watch the Steelers win a conference championship game.
Suzanne Dana sat in her car listening to Steelers games that weren't televised.
Jonathan Hulme says he's never done anything crazy to take in a Steelers game – unless you consider  "skipped church services, weddings, certain obligations, vacations, etc."
He's joking, of course.
Maybe.
Adley says he hasn't done anything crazy to see a game, but after the 2005 Super Bowl "I do remember streaking around the neighborhood with a few of my buddies. That's kind of crazy, I guess."
You could say that.
Ryan Fleischer, assistant director of compliance for W&M athletics, has avoided going to any extreme measures to see the Steelers.
"I just plan my entire day around watching the game," he said. "No extreme measures need be taken."
Kickoff on Sunday will find them scattered throughout Williamsburg. Some will be home with family. Some will attend the now-traditional Super Bowl party. Paul's Deli is a possibility; there's usually a good group of Pittsburgh fans gathered there.
Others will invite friends into their homes– but only if they agree to keep quiet during the game except when as Peterson insists, "they cheer loudly for the Steelers."