Senior selected for fellowship in Germany
Ariana Berger '11 has been selected to participate in the Congress-Bundestag Youth Exchange for Young Professionals (CBYX), a year-long, federally-funded fellowship for study and work in Germany.
Berger, a finance major and German minor at the College, was selected from a pool of over 500 applicants as one of 75 participants for the fellowship program.
Since 1984, over 1,500 Americans have been awarded this opportunity to gain cultural, theoretical, and practical work experience in Germany, and Berger will be participating in the 28th year of the CBYX program (2011-2012).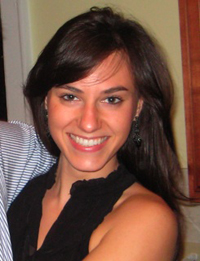 "I am very excited, and surprised, at having received this scholarship," Berger said. "The interview process was tough, and I was not expecting it at all. It turns out that I have been planning on applying for this program ever since my freshman year. I have been learning German since the first grade and am near-fluent in the language, but I have never visited the country. This scholarship opportunity couldn't have come at a better time, and I am looking forward to being immersed in the culture and improving my language skills." 
While in Germany on CBYX, Berger will attend a two-month intensive German language course, study at a German university or professional school for four months, and complete a five-month internship with a German company in her career field.  Participants are placed throughout Germany, and have the opportunity to learn about everyday German life from a variety of perspectives.  
Conceived and supported by members of the United States Congress and the German Parliament (Bundestag), the CBYX program is financially supported by the Bureau of Educational and Cultural Affairs of the U.S. Department of State under the authority of the Fulbright-Hays Act. Participants come from nearly every career field, and from all over the United States.  
The program is designed primarily for young adults in business, technical, engineering, vocational, and agricultural fields, though candidates in all career fields are encouraged to apply.  Participants must be U.S. citizens or permanent residents between the ages of 18-24 and have clear career goals and experience in their professional fields. German language ability is not required, but is strongly recommended. Interested applicants can visit
www.CBYX.info
for more information. While no campus nomination is required, potential applicants are encouraged to talk with the
Charles Center's
Director of Fellowships Lisa Grimes or a Peer Scholarship Advisor about the application.