Program promotes friendships between international students, community members
Shweta Singhal isn't just learning about
business
as she studies for her MBA at William & Mary. An international student from India, she is also learning quite a bit about America's culture and citizens.
That part of her education is being facilitated by two local residents who signed up to participate in the William & Mary
Global Friends Program
, a
Reves Center for International Studies
initiative that aims to connect international students with community members to encourage cross-cultural understanding.
"It certainly has given me a chance to know the community from a different viewpoint," said Singhal.
The voluntary program, which has been in place for about 10 years, asks community members to stay in touch with their designated students throughout the year and invite them to at least one activity. Some community sponsors just meet their students for coffee once a semester while others invite their students to local events and family get-togethers.  The community partners and the students are matched based on similar interests.
Currently, about 50 students and 40 community members or families are participating in the program.
According to William & Mary's Office of Institutional Analysis & Effectiveness, approximately 163 international undergraduate students and 228 graduate students were enrolled at the College during the fall 2010 semester.
Ron St. Onge, interim director of the Reves Center, noted that the College is currently "internationalizing itself" as part of the strategic planning process.
"Not only does W&M encourage its domestic students to become more global through their coursework and study abroad experiences, it also believes strongly in the importance of admitting international students as part of our university fabric here in Williamsburg and at VIMS," he said.
"Such students do, however, need to feel welcome in our midst, and Global Friends can surely play a role in this effort," St. Onge added. "Our own College faculty and staff as well as the local population are made up of an amazing number of people who have studied, worked and traveled abroad and would cherish the opportunity to interact once again with persons from other cultures. Others would just like the opportunity to host foreign students in an American home.  All could contribute significantly to the well-being of our international students by becoming Global Friends."
Singhal, who has participated in activities like strawberry picking, an Easter treasure hunt and Diwali celebration through the Global Friends Program, encourages other international students to get involved.
"International students get restricted with knowing people only from the university, but this is a great opportunity to move out from that circle and learn about the people of this country by spending time with them," she said.
Dick McGrew and his wife, Joann, have participated in the program since its inception. McGrew was still serving as the chief of
police
at William & Mary when he and his wife heard about the program. He retired about three years later.
"We just thought that would kind of be a neat thing to do," he said.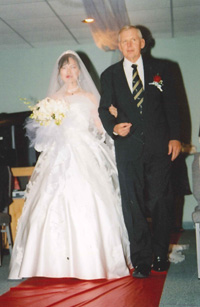 The couple has been paired with about four students and one international staff member from countries ranging from China and Vietnam to Italy. The two have taken their students on bike rides, invited them to family dinners and taken them on trips to locations including the White House. They have helped many of the students move, and they've also become friends with the friends of their students, including them on holidays such as Thanksgiving.
"One year for Thanksgiving, we had about eight international students," said McGrew. "That was great because the other guests we normally have had the chance to interact with students that they normally wouldn't have gotten."
McGrew said that he believes the students get two things from the program: the opportunity to learn more about American culture and a "comfort zone" for the students.
"They are coming a long way into a new culture, and this is a chance to have a mother/father figure and then it's also a chance to experience the culture from a family-setting, if you will," he said. "It's always nice when we visit other countries to experience the slower pace, not the tourist sites."
In return, the couple, too, has learned much about other cultures and built relationships with students whom they now consider as part of the family. A decade after they began participating in the program, the couple now has two "virtual grandchildren." McGrew even gave away one of the students at her wedding.
"I didn't know I'd make the life-long connections that we have, so it's been a nice bonus," he said.