Professor takes on SAM presidency while finishing three books
William & Mary's Katherine Preston recently took the helm of the Society for American Music. But overseeing a national scholarly organization with close to 1,000 members isn't the only thing keeping the musicology professor busy this year. She also recently had two works published and is nearly finished with a third.
Preston, the David N. and Margaret C. Bottoms Professor of Music, formally assumed the role of President of the Society for American Music at the organization's March meeting in Cincinnati, after serving for a year as president-elect.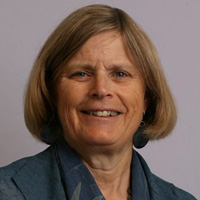 "I came away from the meeting quite impressed and energized because we had in attendance the largest contingent of first-timers ever, and they were not just musicologists, but also ethnomusicologists, theorists, independent scholars," Preston said.
According to its website, the society aims to "stimulate the appreciation, performance, creation and study of American musics of all eras and in all their diversity, including the full range of activities and institutions associated with these musics throughout the world."
Over the last year, Preston has been working with the society's Long Range Planning Committee and its members to determine the future direction of the organization; since March, she has spent a lot of time asking people to serve on committees and thinking about revamping the Society's committee system. As former chair of the William & Mary Department of Music, she is used to serving in such a role.
"It's exciting because you can see that SAM members are very interested in contributing to the society, but you have to be careful that you don't ask anyone to do too much and also that you get people who are actually going to do the work," she said.
Nearly two months after assuming the presidency, Preston saw some of her own hard scholarly work come to fruition.
Recent publications
A facsimile edition of a bound volume of sheet music, titled "Emily's Songbook," that Preston contributed to was published at the beginning of May. The publication reproduces a collection of sheet music that was assembled in 1853 by one Emily McKissick of Albany, New York. Almost all middle-class women in nineteenth-century America purchased sheet music and organized their collections into bound volumes. Librarians used to dismantle these volumes in order to catalogue the pieces individually, but scholars now understand that an intact volume reveals a great deal about popular music during the period.
"If you want to get a sense of what taste was like in the 19th century, looking at the bound volume itself is very useful," said Preston. "Think of this as the 19th-century version of an iPod."
This particular volume is unusual because the identity of the person who assembled it is known. The vast majority of such collections were assembled by women who are today anonymous.
"Because we knew her identity," Preston pointed out, "we could investigate her life. We could find out about her family, learn who she married, understand what musical life was like in Albany, etc., which allowed us to create a microcosm of the world into which the volume fits."
The original volume is owned by Professor Mark Slobin, an ethnomusicologist at Wesleyan University. He asked Preston's advice about publishing the document several years ago, when she and her son were visiting Wesleyan on a college tour. Preston eventually agreed to help edit the volume and contributed an essay to the book, contextualizing the music within musical culture of the 19th century.
Within days of the release of "Emily's Songbook" at the beginning of May, another of Preston's books came out: an edition of Symphony no. 2 in D Minor, op. 24, written in 1853 by the American composer George Bristow. Preston wrote a 100-page introduction to the symphony that places it into the context of American concert life of the mid-19th century, and created a scholarly edition of the piece.
"In a scholarly edition of a musical composition," Preston said, "any changes have to be explained. For example, in the manuscript, Bristow might have put a slur over several notes played by the flutes, but not over the same notes played by the oboes. Since the oboes are doubling the flutes, however, I had to insert the missing slurs—but as dashed (instead of solid) lines, which indicates that they have been added. Then at the back of the volume is what is known as the Apparatus, which details, note-by-note, every change that an editor has made. It's absolutely, incredibly painstaking."
Preston worked from a photostatic copy of Bristow's holograph manuscript, which is at the New York Public Library for the Performing Arts.
The finished edition is volume 23 of a 40-volume series titled "Music of the United States of America." The series, which Preston said is the major scholarly edition of music of the US, is available in most university libraries around the country (including William & Mary's Music Library). It is being funded by the National Endowment for the Humanities under the supervision of the American Musicological Society and the Society for American Music.
'Against the grain'
Now that her edition of Bristow's symphony and "Emily's Songbook" are published, Preston is focusing her attention on finishing a book she has been working on for 15 years.
"The topic of the book is English opera in late 19th-century America and the women who were the prima donnas and the managers of these companies," Preston said.
The 19th-century performance of English-language opera (which can be thought of as musical theatre) is a topic that hasn't really been studied as a whole before, as many scholars have concentrated more on Italian-, French-, and German-language operas or on specific composers of those works.
Preston travelled throughout the country to do her research, and she has come to some surprising conclusions.
"Women had an important part in the production of this particular kind of opera because singers who were English-speakers didn't have the same kind of cachet as Italian prima donnas," she said. "They weren't capricious or mysterious. They were from Peoria, Ill. or Sumter, S.C. -- you know, places that didn't have quite the same kind of ring as Milan or Naples -- so they were marginalized. They couldn't get jobs with the Italian opera troupes -- which were all about celebrity and glamour -- and so they created their own companies. As a result, they maintained a theatrical tradition of English-language opera and called it opera 'for the people.'"
In addition to discovering that it was women who were (literally) running the show, Preston also realized that companies presented diverse offerings to mixed audiences.
"I discovered that these companies were not only managed by women," Preston said, "but they also performed a repertory that was heterogeneous, their audiences were mixed socially and economically, and the company members themselves frequently wore different kinds of hats—performing theatrical works, oratorios, grand operas, operettas, and sometimes even blackface minstrelsy. This is particularly interesting," she continued, "because it complicates our understanding of the place of opera in nineteenth-century American culture. Opera then was popular culture. Opera today is anything but popular culture."
Preston hopes to finish the final chapter of the book, which is tentatively titled "Against the Grain: Women Managers and English-Language Opera in Late 19th-Century America," this summer.