Paul Nardo '88 elected clerk of the House of Delegates
William & Mary alumnus G. Paul Nardo '88 was recently elected by the Virginia House of Delegates as Clerk of the House of Delegates and Keeper of the Rolls of the Commonwealth.
Nardo, who is serving as the 21st clerk of the house, was unanimously elected to the position and sworn in by Cynthia D. Kinser, chief justice of the Supreme Court of Virginia, on June 9, 2011.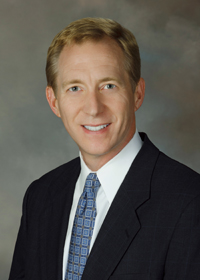 "This is an immense honor for me and a tremendous responsibility, and I will devote my every energy to providing each delegate, and the citizens of the Commonwealth they serve, with the professional, effective and efficient services they expect and deserve," Nardo said in a press release. "The faith that has been placed in me by the delegates with whom I have worked for nearly a decade is truly humbling. As a student and lover of history, being given the opportunity to serve an institution that was the model for representative government in the New World is a privilege for which I am extremely grateful."
Nardo, who majored in government at William & Mary, has more than 17 years of experience in Richmond. Prior to assuming his current position, he served as the chief of staff to Speaker of the House William J. Howell (R-Stafford) for nine years. He has also previously worked as the director of government relations and communications for the State Council of Higher Education and as a speechwriter for Governor George F. Allen. He was also the legislative director for the late Congressman Herbert H. Bateman.
As clerk, Nardo is responsible for the administration of the house, under Howell's direction. He oversees 30 employees, the management of an annual budget of $21 million and the house's adherence to the constitutional, statutory and policy requirements.
Nardo also currently serves on the Governor's Commission on Higher Education Reform, Innovation and Investment, the board of directors for the Virginia Mentoring Partnership, and the board of directors for the Rotary Club of Richmond, #69. Nardo will become the club's 100th president in 2013.
"Through years of public service, Paul has earned the trust and respect of elected and appointed officials from both political parties and all branches of state government," said Virginia Governor Bob McDonnell in a statement. "He is a consummate professional, has a deep respect for the history and institution of the House of Delegates, and loves the Commonwealth of Virginia. Paul has developed strong relationships on both sides of the aisle, cheerfully and tirelessly finding common ground in an effort to advance sound policy for the Commonwealth.
"I know that Paul truly appreciates the significance of serving as Clerk for the oldest continuously elected legislative body in the country. I join the members of the House of Delegates in looking forward to working with Paul in this next chapter of his career of public service to our Commonwealth and our citizens."