Jeffrey B. Trammell '73 elected Rector of the College
The William & Mary Board of Visitors today unanimously elected alumnus Jeffrey B. Trammell '73 as the College's next rector.
Trammell is president and founder of Trammell and Company, an external communications and public affairs consulting firm in Washington, D.C. He will succeed Henry C. Wolf '64 J.D. '66, who will step down from the Board of Visitors this summer following his second term -- including two years as rector.
Charles A. Banks III was elected vice rector and will succeed John W. Gerdelman '75, who is also completing his second term on the Board. Dennis H. Liberson '78 will succeed Janet M. Brashear '82 as secretary of the Board.
The rector serves as chair of the College's Board of Visitors.
"We will sorely miss Hank Wolf as Rector of the College.  He has done a marvelous job.  There is no escape from service to alma mater, however, and we count on Hank's continued work for William & Mary in the years to come.  We also owe a great debt to John Gerdelman and Janet Brashear for their superb work as BOV leaders along with Hank," said President Taylor Reveley.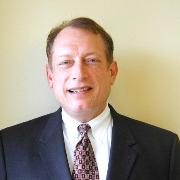 "This is an important time in the life of the College, and we are very fortunate to have a Jeff Trammell ready and willing to take the gavel, aided and abetted by Charlie Banks and Dennis Liberson in the leadership of the Board. I look forward to working with them."
A native of Blountstown, Fla., Trammell came to William & Mary in 1969 on a basketball scholarship.  He went on to become the team's captain and was named all-conference in 1972. While an undergraduate at William & Mary, Trammell also served as president of Lambda Chi Alpha fraternity. He has remained intimately involved with William & Mary since graduating with his bachelor's degree in history in 1973. Trammell was the founding chair and currently serves as a board member of the College's Thomas Jefferson Public Policy Program. He is also a former board member of the Greater Washington, D.C., chapter of the William & Mary Alumni Association.
"William & Mary has been a part of my life for more than four decades and it is a great honor to take on this new assignment," Trammell said. "Hank Wolf has been an exceptional leader and deserves our immense gratitude for his devoted service to the Board and the College. I also have a tremendous amount of admiration and respect for the faculty, staff, students and alumni of this great university, as well as President Reveley and my fellow Board members. It is a high privilege to have the opportunity to serve as their rector."
Before founding his consulting firm, Trammell previously served as senior managing director of Hill & Knowlton, a worldwide communications firm.
Trammell, who received his law degree from Florida State University in 1977, worked for a number of years in the U.S. Senate and the U.S. House of Representatives, where he was counsel to a subcommittee chair on the Committee on Energy and Commerce. He also founded Almanac Publishing, which produced annual references on government organizations. Trammell currently serves on the Board of Advisors for the Institute of Human Virology, University of Maryland Medical System. He has served on a number of boards, including that of the Human Rights Campaign and an advisory board to the U.S. Holocaust Memorial Museum.
Trammell was appointed to the William & Mary Board of Visitors in 2005 and re-appointed in 2009. He currently serves as chair of the Committee on Strategic Initiatives, vice chair of the Richard Bland College Committee, and is a member of the Executive Committee and the Committee on Administration.
"I think this is a terrific choice," said Alan J. Meese '86, the Ball Professor of Law and faculty representative on the Board. "Jeff is extraordinarily dedicated to William & Mary and will provide superb leadership as the new rector."
Charles A. Banks III
Banks received his B.A. in international relations from Brown University in 1962.  Upon graduation he was commissioned an Ensign in the United States Navy, where he served two years on active duty and five additional years in the Naval Reserve, advancing to lieutenant.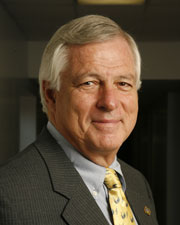 Banks joined the Peebles Supply Division of Ferguson Enterprises in 1967, advancing quickly through appointments as general manager of Ferguson's Herndon, Va., location and to vice president regional manager for the Southeast region.  In 1989, he was promoted to president and chief executive of Ferguson Enterprises Inc. In 1992, Banks was appointed to the Board of Wolseley PLC (the parent company of Ferguson) and in 2001 was appointed group chief executive.  He retired from Wolseley in July 2006 and became a partner in Clayton, Dubilier & Rice, a private equity investment firm. He retired from CD&R Dec. 31, 2010.
Banks was named an honorary alumnus by the William & Mary Alumni Association in 2005 and in 2006 he was awarded the T.C. and Elizabeth Clarke Medallion by William & Mary's Mason School of Business.  In 1989, Banks was elected to the Business School Foundation Board of Directors and from 1992 until 2001 served as chairman. 
Banks was appointed to the Board in 2006 and re-appointed in 2010. He currently serves as chair of the Committee on Financial Affairs, vice chair of the Committee on Buildings and Grounds, and is a member of the Executive Committee.
Dennis H. Liberson
Liberson received his B.A. in economics and government from William & Mary in 1978. After receiving his master's degree in labor and industrial relations from Michigan State University in 1980, he went on to a successful, 23-year career in human resources, serving most recently as executive vice president of human resources and corporate real estate for Capital One Financial Corporation.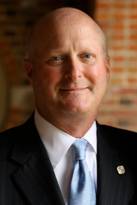 After retiring from Capitol One in 2003, Liberson served as chairman of the Board of the Divers Alert Network, Inc., and executive chairman of DAN Holdings, Inc., a $20-million business providing insurance services to scuba divers. Liberson also owns and operates Lindera, LLC, which is engaged in stream and wetland mitigation banking.
Liberson has been a generous supporter of the College's Environmental Science and Policy program and campus sustainability efforts. He serves on the Virginia Institute of Marine Science Advisory Council. Liberson has also served on the Board of Directors of the Coral Reef Alliance, the Divers Alert Network, Inc., and the Virginia Scenic Rivers Advisory Board. 
He was appointed to the Board in 2009. Currently, Liberson is chair of the Committee on Administration and is a member of the Committee on Academic Affairs and the Richard Bland College Committee. He also services as chair of Richard Bland's presidential search committee.