Haulman to appear on NPR's 'With Good Reason'
William and Mary Professor Clyde Haulman will be featured next week on the radio show With Good Reason.  The interview will be aired on public radio channels in Virginia beginning Saturday, Jan. 29 and will be re-aired through Feb. 4.   Broadcast times are posted online.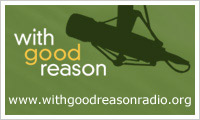 Haulman will discuss the history of economic recessions and his research about the Panic of 1819, America's first modern economic depression. He is the author of Virginia and the Panic of 1819. 
With Good Reason may also be heard via podcast. To subscribe to the podcast visit the WGR website.