Global Film Festival to shoot community lip dub Saturday
This Saturday, Nov. 5, at noon in front of the Kimball Theater, the William and Mary Global Film Festival will be filming Southeast Side Story, a community-wide lip dub musical adaptation of the film West Side Story.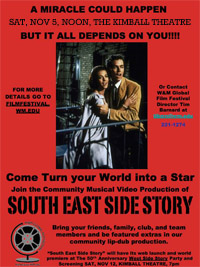 The project aims to bring the Williamsburg community together through a fun music video showcasing Williamsburg and its town and gown relationship in a local retelling of the famous musical.

Representing local versions of the film's gangs, the "Jets" and "Sharks," William & Mary President Taylor Reveley, President and Chief Executive Officer of the Colonial Williamsburg Foundation Colin Campbell, Williamsburg Mayor Clyde Haulman and W&M Student Assembly President Kaveh Sadeghian are confirmed participants in the production as are a number of other campus and community groups, clubs, and businesses. All individuals and community groups, businesses, and organizations are encouraged to participate. To register a group and receive more information, visit http://filmfestival.wm.edu.

Inspired by the phenomenon of viral video lip-dub productions, the W&M Global Film Festival's Southeast Side Story will launch online after premiering at a special 50th Anniversary screening and party celebrating the original West Side Story on Saturday Nov. 12 at the Kimball Theater at 7 p.m. Tickets for the prescreening party and the film are $5.

The Southeast Side Story production and anniversary West Side Story screening have been organized into a special fall event in advance of the 2012 Global Film Festival and its theme "Film and the City." Scheduled for Feb. 16-19 at the historic Kimball Theater, the 2012 Global Film Festival will feature films from around the world, live performances, receptions, and presentations by invited filmmakers.

Attracting over 4,500 attendees in 2011, the Global Film Festival anticipates even larger audiences as it celebrates its fifth anniversary next February.