Game, set, goal: Loomans a rare dual-sport athlete
What began as a bit of boredom-breaking fun last May at Busch Field turned William & Mary's Jeltje Loomans into a distinctive NCAA athlete.
Loomans '14 was working out in preparation for the NCAA tennis championship, where she held the distinction of being the Colonial Athletic Association's representative and only the sixth player in Tribe history to complete in the NCAAs as a freshman.
She spotted assistant field hockey coach Tess Ellis instructing some of her players. Loomans, who hadn't played organized field hockey since she was a 12-year-old girl in The Netherlands, asked if she could grab a stick, and take a few shots.
Ellis agreed, and was so wowed by what she saw that she asked Loomans whether she was interested in joining the team. When Loomans answered yes, Ellis went to women's tennis coach Meredith Geiger-Walton, who graciously made it happen.
"The opportunity to be a dual-sport athlete is so rare today in collegiate athletics," Geiger-Walton said. "Jeltje loves to play field hockey and is very good. She is an exceptional athlete and you cannot suppress her multiple talents. I love the field hockey coaching staff. I knew she would be well cared for."
As far as the College's sports information department can tell, Loomans is the only athlete in the country who participated in both tennis and field hockey this fall. She is the only two-sport athlete at W&M.
And she was more than just a member of those teams. Ranked among the top six tennis players in The Netherlands in the 12-14 and 16-18 age classes, at W&M Loomans was nationally ranked in singles and compiled an 8-3 record with Maria Belaya as a new doubles team.
"She is the type of tennis player who doesn't need to practice everyday to get better," Geiger-Walton said. "She is a natural competitor. I knew the conditioning of field hockey would help her tennis and that she would stay mentally fresh by the excitement of getting to play both sports she loves."
Playing forward in field hockey, Loomans participated in 10 games, started six, and scored a brilliant game-winning goal with 1:03 left against Northeastern on Sept. 23.
"That will remain my favorite memory from the season," Tribe field hockey coach Peel Hawthorne said. "We were getting ready to take her out, but the day before she had stayed after practice to work on penalty corners and she kept nailing them into the cage. We decided that if we got a penalty corner we'd use her. We did, and she wound up winning the game for us."
Making the goal all the more special for Loomans was the fact that her parents were watching her play after traveling over here from The Netherlands' city of Houten. The week before, they'd witnessed their middle child competing in the Duke Fab Four Invitational tennis tournament.
"They love seeing me play field hockey and tennis, and they see things on the Tribe website," Loomans said. "It's great for them not just to see me, but to follow the whole athletic department.
"My parents have always been very supporting of whatever me or my siblings wanted to do. They're free-minded about things, and they've always said, 'If you want to do this thing, go do it. We support you completely.' "
Loomans found out about William & Mary from a Floridian who is close friends with Betsy Nagelsen McCormack and the late Mark McCormack '51, who made the gift that allowed the College's indoor tennis facility named for them to be built. He had recommended the College to other players in the past, including Carmen Pop, and he presented Loomans with a list of options that included the University of Minnesota and Texas A&M.
"He was really clear about me going to William & Mary, very enthusiastic," Loomans said. "He helped Carmen Pop, and he wasn't pushing me, but he and she had had such a good experience here, it was obvious what he thought I should do."
Pop and Geiger-Walton both helped Loomans feel comfortable with W&M through conversations with her. Through the College's website and social media channels, she learned of its academic prowess, the substantial reputation the College possesses in tennis, and its campus environment.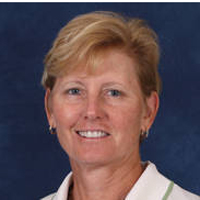 "The combination of the good academics, the people I got to know from a distance, the weather, everything, it all helped," she said. "I just felt really good about my decision. I was sold from the first moment."
Although she has yet to declare a major, Loomans wants to leave the College with a degree in kinesiology. A solid B student, Loomans's fall was often a hectic mishmash of early-morning running and weight-lifting, late-morning and early-afternoon classes, tennis or field hockey practice followed by a quick meal and several hours of study before bed.
"I had great support from coaches, field hockey and tennis, and teammates who were helpful with leaving notes," Loomans said. "They helped me stay on top of stuff."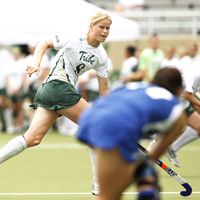 Both coaches are enthusiastic about Loomans remaining a two-sport star if that's what she desires. Both see her as an amazing athlete just scratching her potential.
"She's got great speed, and unbelievable hand-eye coordination," Hawthorne said. "She can hit a ball from any angle, and she can get to just about anything."
"Jeltje sets herself apart from most collegiate female tennis players because of her very aggressive style and one-handed backhand," Geiger-Walton said. "She plays 90 percent of her points at the net . . . She is very capable of becoming a NCAA All-American in both singles and doubles."
Loomans is taking a wait-and-see approach. Tennis is her favorite sport and she harbors some thought of playing professionally. But she cautions that such talk is grossly premature, not to mention hideously expensive.
"I just want to see how the next three years go," she said. "I'm not sure what I want to do, other than enjoy my time and see what pops up for me."